Tokyo vs Osaka: Which One Should You Travel??
Tokyo or Osaka: Capital cities of east and west in Japan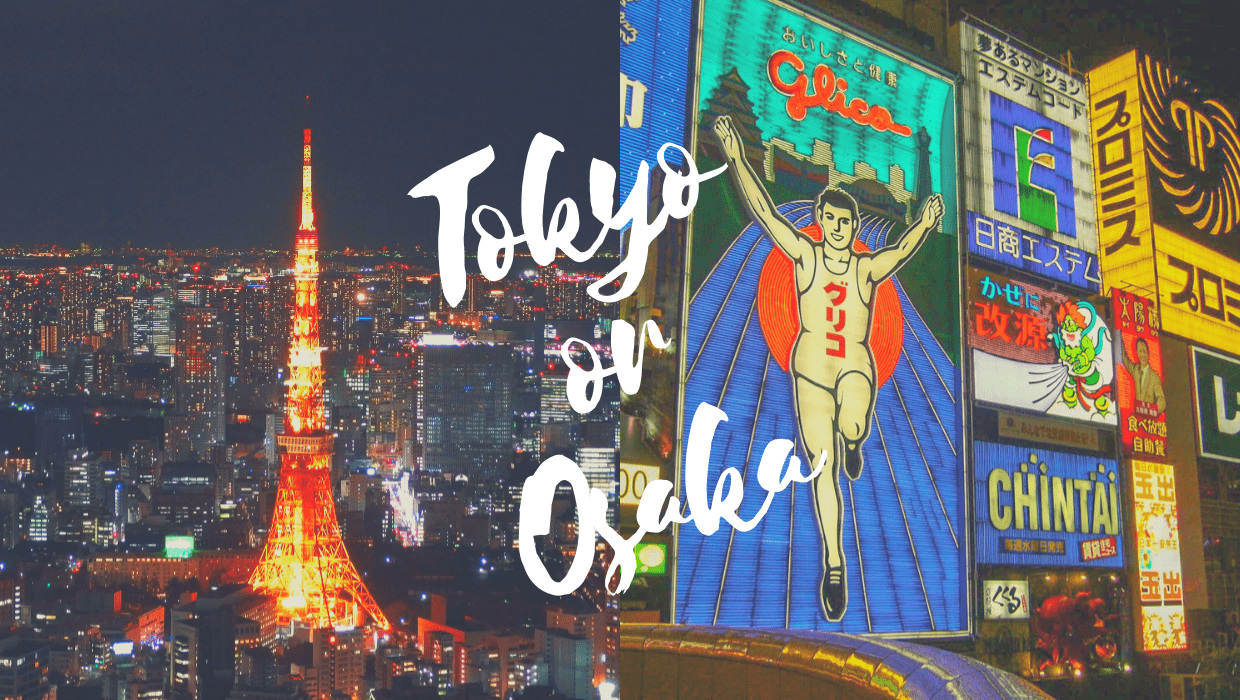 The capital cities of east and west Japan, Tokyo and Osaka are two greatest cities competing each other for many centuries. So as a tourist, which city should I visit? Which one wins the greatest battle of "Osaka vs Tokyo"??
I'm going to introduce the best things about both cities to help you out with deciding which one is more for you!
Sightseeing
Tokyo and Osaka are both very big cities and have countless tourist attractions including a large number of shops, museums, parks, temples, shrines, skyscrapers and so on. Both are also home to amazing amusement parks Tokyo Disney Resort (it's actually located in Chiba Prefecture though..) and Universal Studios Japan.
In comparison, Tokyo is much bigger and offers more number of tourist attractions such as Tokyo Tower, Asakusa Sensoji, Shibuya Crossing and more. Also there are many tourist sites nearby such as Yokohama and Kamakura which are perfect for day trips.
Osaka offers a great number of tourist attractions, too, including Dotonbori neon lights, Osaka Castle and Kaiyukan Aquarium, but the scale is just smaller than in Tokyo. However, Osaka can be a great hub to travel to the area around such as Kyoto, Nara and Hiroshima that are counted as the greatest cities in Japan.
Conclusion: Tokyo has uncountable tourist attractions and a week could be not enough to see all you want to see. But the best thing about Osaka is it's really closed to Japan's tourist capital, Kyoto 😉
Food
The metropolitan city, Tokyo is one of the best cities to dine in the world with a huge choice of top-notch international cuisine restaurants. Also Tokyo has strong food culture retained from Edo period, such as Sushi, Soba and Tempura.
However, Osaka's food culture is stronger than any other regions in Japan as the term "kuidaore" ("eat until you drop") is used to describe the city. Many of their local dishes become nation's favourites such as Takoyaki and Okonomiyaki. Also Osaka is the best place to eat cheap and enjoy their street food! ]
Both cities offers unique and authentic drinking culture and there are numbers of night-out and drinking spots including Izakaya alleys and local bars.
▶ Best Restaurants in Tokyo
▶ Best Areas to Drink in Tokyo
▶ Best Restaurants in Osaka
▶ Best Areas to Drink in Osaka
Conclusion: If you wish to dine at world's top-class or Michelin starred restaurants, Tokyo is better option. Osaka offers much more variety of reasonable food and snacks with stronger local vibes!
Culture
In Tokyo, visitors can experience mixed culture of Pop, Geek, High-tech and History. You can still find many historical sights like temples and shrines right next to skyscrapers.
Osaka also has a similar culture as it has the deep history in 16th century and now it's the second largest cosmopolitan in Japan. The best-known culture of Osaka today would be their comedy. Osaka has produced hundreds of comedians and entertainers in Japan's show-biz history and there are many theatres and shows in the city.
Conclusion: Tokyo might be better option for modern culture seekers who love Kawaii, anime, robots etc. Osaka has stronger local atmosphere!
People
Osakans are considered to be more friendly. As I mentioned, Osaka has the strong comedy culture, people are tend to joke and laugh with others while Tokyoites are more shy and quiet generally.
Also attractive thing about Osakans is their dialect called Osaka-ben, which makes them sound quite special. Yet both of them are polite and friendly to foreign tourists. Also I should mention that people usually stand on the left side of escalators in Japan, but they do opposite in Osaka (in Kansai Region)!
Conclusion: You may find more English speakers in Tokyo, which might ease your trip. However, Osakans are more friendly and they usually want to talk and joke with you 😉
Traffic and Transportation
Tokyo might be the worst place to drive since the traffic is real heavy especially in the morning and evening. The road in Osaka is wider and slightly less traffic than Tokyo. Tokyo has more frequent public transportation service but even they are fully packed during rush hour. I assume it's better idea to think it as a tourist attraction!
Conclusion: Both cities provide great public transportation, yet they are two largest cities in Japan so avoid travelling during rush hours!
Shopping
The number of shops can be much bigger and selection is wider in Tokyo. Visitors will never get bored of shopping and find something very interesting and unique only in this city. But Osaka is still the great place to shop. They have several long shopping arcades which allow visitors to enjoy shopping in a rainy day and there are plenty of shop displays decorate the street. Osaka also has a strong culture of bargaining which may excite tourists 😉
▶ Best things to buy in Tokyo
▶ Best Shopping Areas in Tokyo
▶ Best things to buy in Osaka
▶ Best Shopping Areas in Osaka
Conclusion: If you wanna get latest, trendy items, Tokyo is the choice. But Osaka can entertain you more while you shop with gigantic shop displays and friendly staff.
<<Special Offer Exclusively Available for My Readers>>
If you are interested in traveling to Japan and renting a pocket WiFi, use the special discount coupon "JWM20SPRING" on your order with us Japan Wireless. Place your order HERE with a special price!!
---
So how did you find these two great cities attractive? Osaka or Tokyo? Share your thought with us what you like most about these cities 😉
Here are articles suggesting the very best highlights of Tokyo and Osaka!
▽Related Articles▽
▼Editor's Picks▼
---