15 Best Places to See Cherry Blossoms in Tokyo
Cherry Blossoms in Tokyo: Best Spots to See Cherry Blossoms in Tokyo in Spring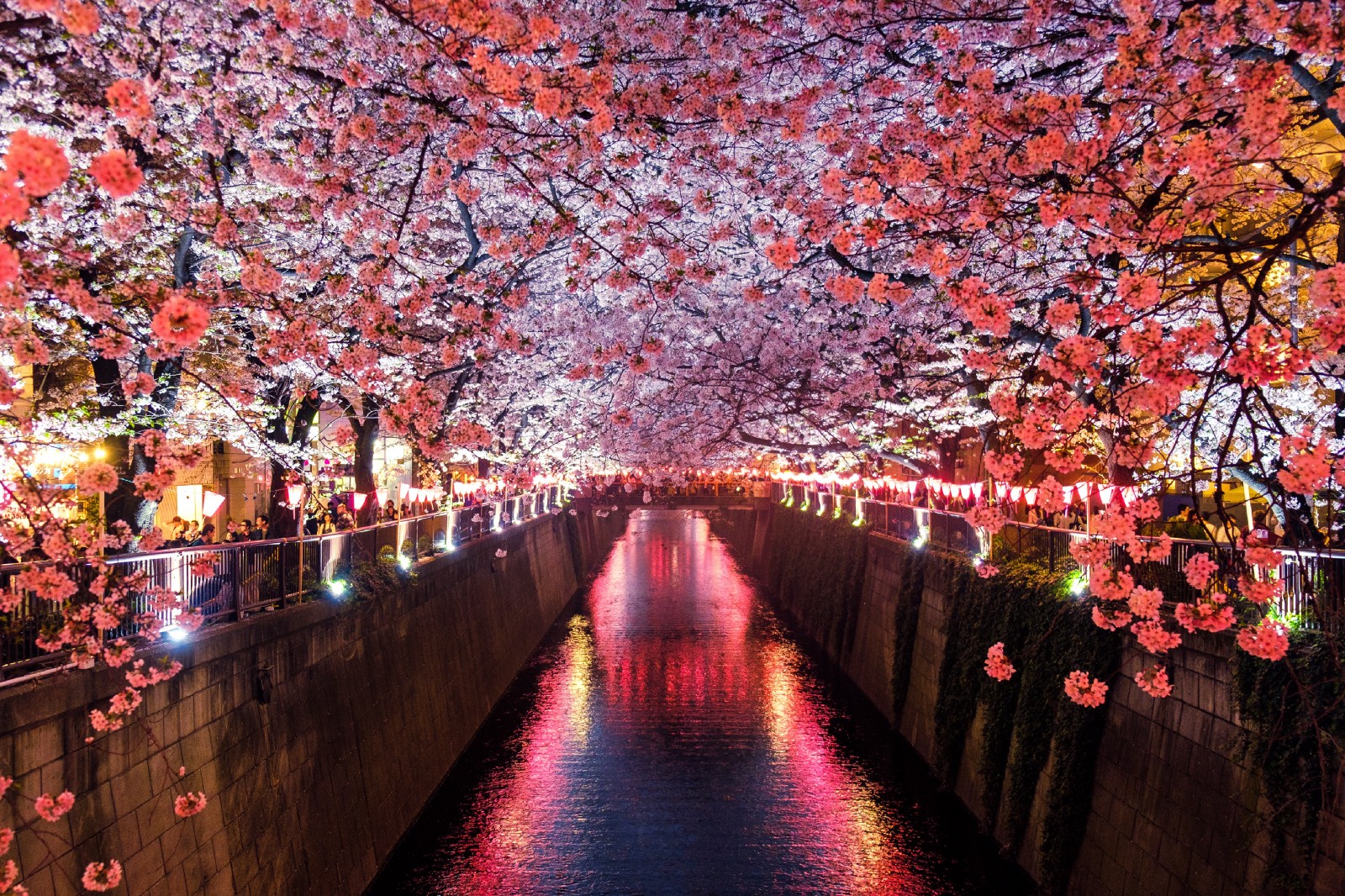 Best Places to See Cherry Blossoms in Tokyo Spring: Planning a trip to Tokyo during cherry blossom (Sakura) season? It's the most wonderful time of the year when the whole city turn in a pink wonderland 🙂 There are numbers of spots in Tokyo where you can enjoy beautiful cherry blossom viewing (Hanami) and festivals.
In this article, I have listed the best places to see cherry blossoms in Tokyo for spring. So let's check them out!
Best Time to See Cherry Blossoms in Tokyo
First of all, "When is the best time to see cherry blossoms in Tokyo??"
Cherry blossoms in Tokyo typically starts between 20–28 March and reaches full bloom about 7 days later depending on climate condition. The full bloom of cherry blossoms usually lasts for about 7 days. If you wish to catch the best time to see cherry blossoms in Tokyo, I strongly recommend you to check the cherry blossom forecast below in advance from time to time.
▽Check the best season to view cherry blossoms in Tokyo this year!▽
1. Shinjuku Gyoen (新宿御苑)
Shinjuku Gyoen is one of largest national gardens in town, which is located in the tourist/business hub area Shinjuku. The garden features around 1,000 cherry trees in various kinds in the vast space.
More info:
2. Meguro River (目黒川)
Meguro River is one of the most popular spots for cherry blossom viewing in Japan which features over 800 cherry trees lining along the Meguro River. The cherry blossom festival is held with lots of food vendors during the season, and light-up of the cherry blossoms is also available at night.
More:
3. Chidorigafuchi (千鳥ヶ淵)
Chidorigafuchi is the most picturesque cherry blossom spot in Tokyo. It's the moats of former Edo Castle (now it's a part of the Imperial Palace) which are surrounded by hundreds of cherry trees. Visitors enjoy paddling on boats and viewing cherry blossoms from the water.
More info:
4. Ueno Onshi Park (上野恩賜公園)
Ueno Onshi Park is the most crowded place to see cherry blossoms in Tokyo as many visitors come for Hanami (cherry blossom viewing party). One of the biggest parks in Tokyo features over 1,000 cherry blossom trees surrounded by beautiful nature.
More info:
5. Sumida Park (隅田公園)
Sumida Park is a great spot to enjoy cherry blossom viewing with the magnificent landmarks of Tokyo: Sumida River and Tokyo Skytree. The cruise with cherry blossom viewing is also available.
More info:
6. Mori Garden Roppongi Hills (毛利庭園)
Mori Garden is located within the large complex building, Roppongi Hills in Tokyo. The cherry blossoms can be enjoyed with a perfect combination of the beautiful Japanese landscape garden and modern buildings.
More info:
7. Aoyama Cemetery (青山霊園)
Aoyama Cemetery is the largest cemetery in Tokyo, and there are over 300 cherry trees lined along the promenade beautifully. It's a perfect place to enjoy beautiful cherry blossoms quietly and peacefully.
More info:
8. Inokashira Park (井の頭恩賜公園)
Inokashira Park is located near Kichijoji area, one of the coolest neighbourhoods in Tokyo popular among hipsters. The vast park has a large pond and visitors enjoy paddling on the pond with the stunning view of cherry blossoms during the season.
More info:
9. Yaesu Sakura Street (八重洲さくら通り)
Yaesu Sakura Street (or Yaesu Sakura Dori) is located right in front of Tokyo Station, offering a fascinating "Sakura Tunnel" which is created by over 100 cherry blossom trees.
More info:
10. Yoyogi Park (代々木公園)
Yoyogi Park is one of the most popular parks in Tokyo where numbers of events are held through the year. It's also extremely popular for cherry blossom viewing and picnics during the season. The park is accessible from Shinjuku and Harajuku area.
More info:
11. Rikugien Garden (六義園)
Rikugien Garden is a traditional Japanese landscape garden in Bunkyo Ward. The best highlight of the garden is the magnificent weeping cherry tree which is 15 m tall and 20 m wide which is illuminated at night.
More info:
12. Tokyo Midtown (東京ミッドタウン)
Tokyo Midtown is a popular complex building for shopping and dining in the heart of Tokyo (similar to Roppongi Hills). It's especially recommended for dining with the view of cherry blossoms for lunch and dinner as several restaurants offer the great seats outside.
More info:
13. Asukayama Park (飛鳥山公園)
One of the oldest Hanami (Cherry Blossom Viewing) spots in Japan, Asukayama Park is a locals' favourite cherry blossom viewing spot featuring approx 600 cherry trees at site. The night light-up is also available during the season.
14. Koishikawa Korakuen Garden (小石川後楽園)
Koishikawa Korakuen is a traditional Japanese garden in the heart of Tokyo where beautiful seasonal scenery is displayed through the year. There are two most recommended periods of the year to visit the garden: cherry blossoms and autumn leaves seasons.
15. Showa Memorial Park (昭和記念公園)
Showa Memorial Park (or Showa Kinen Koen) is the largest park located in the outskirt of Tokyo, displaying a wide variety of seasonal flowers and plants including 1,500 trees of 30 varieties of cherry blossoms.
-More Cherry Blossom Viewing Spots in Tokyo
▶ 7 Hidden Cherry Blossom Spots in Tokyo
▶ 5 Best Places to See Night Cherry Blossoms in Tokyo
▶ 5 Best Cherry Blossom Festivals in Tokyo
▶ 10 Best Cherry Blossom Viewing Restaurants in Tokyo
▶ 7 Best Cafes for Cherry Blossom Viewing in Tokyo
▶ 5 Best Cherry Blossom Viewing Cruises in Tokyo
▶ Best Cherry Blossom Spots near Tokyo
Cherry blossom season is definitely the best time for outdoor activities such as cycling in Tokyo! Join "Tokyo Good Old Bike Tour" by Magical Trip, one of the most popular sightseeing tours in Tokyo today. The 5-hour cycling trip takes you to the most charming and historical neighbourhoods in Tokyo, Yanaka, Asakusa and Ueno. The area is also known for amazing cherry blossom spots! Check the attached link below for more details and book the tour with special discount!
↓↓↓ Check more articles about Cherry Blossoms in Japan!! ↓↓↓
▽Related Articles▽
▼Editor's Picks▼
---