30 Best Things to Do in Tokyo 2023
What to Do in Tokyo from Classic Tourist Attractions to the Latest Trendy Spots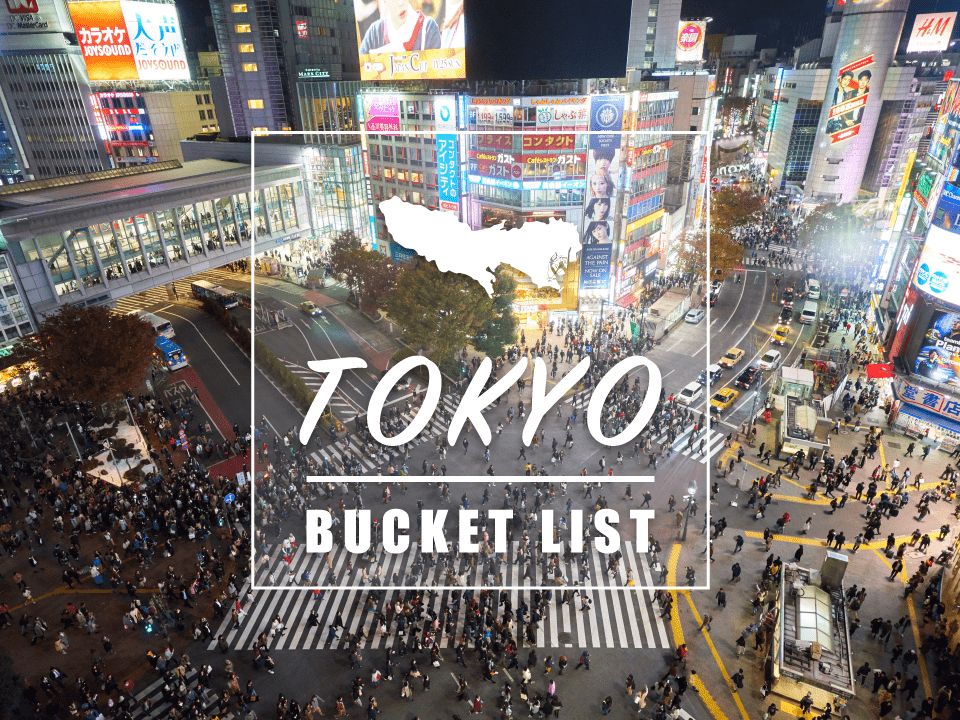 Visiting Tokyo? Looking for best things to do or places to visit in Tokyo now??
Tokyo is one of the most attractive cities in the world offering a tons of sightseeing attractions including historic monuments, unique museums, cool skyscraper and cultural experiences.
If you are a first time visitors, it may be hard for you to decide what to do in Tokyo with a limited period. So it's very important to plan your trip carefully in advance and choose where to go/what to do, so you can maximize your trip in Japan.
In case you need a little help to get some ideas about the best places to visit and things to do in Tokyo, you can check out my Tokyo Bucket List, introducing must-visit spots in the city! The list includes classic tourist attractions, historic monuments, unique cultural experiences and the latest trendy spots so you can experience both traditional and modern cultures of Japan! Let's check them out 🙂
---
1. Shibuya Crossing: Take the Coolest Photos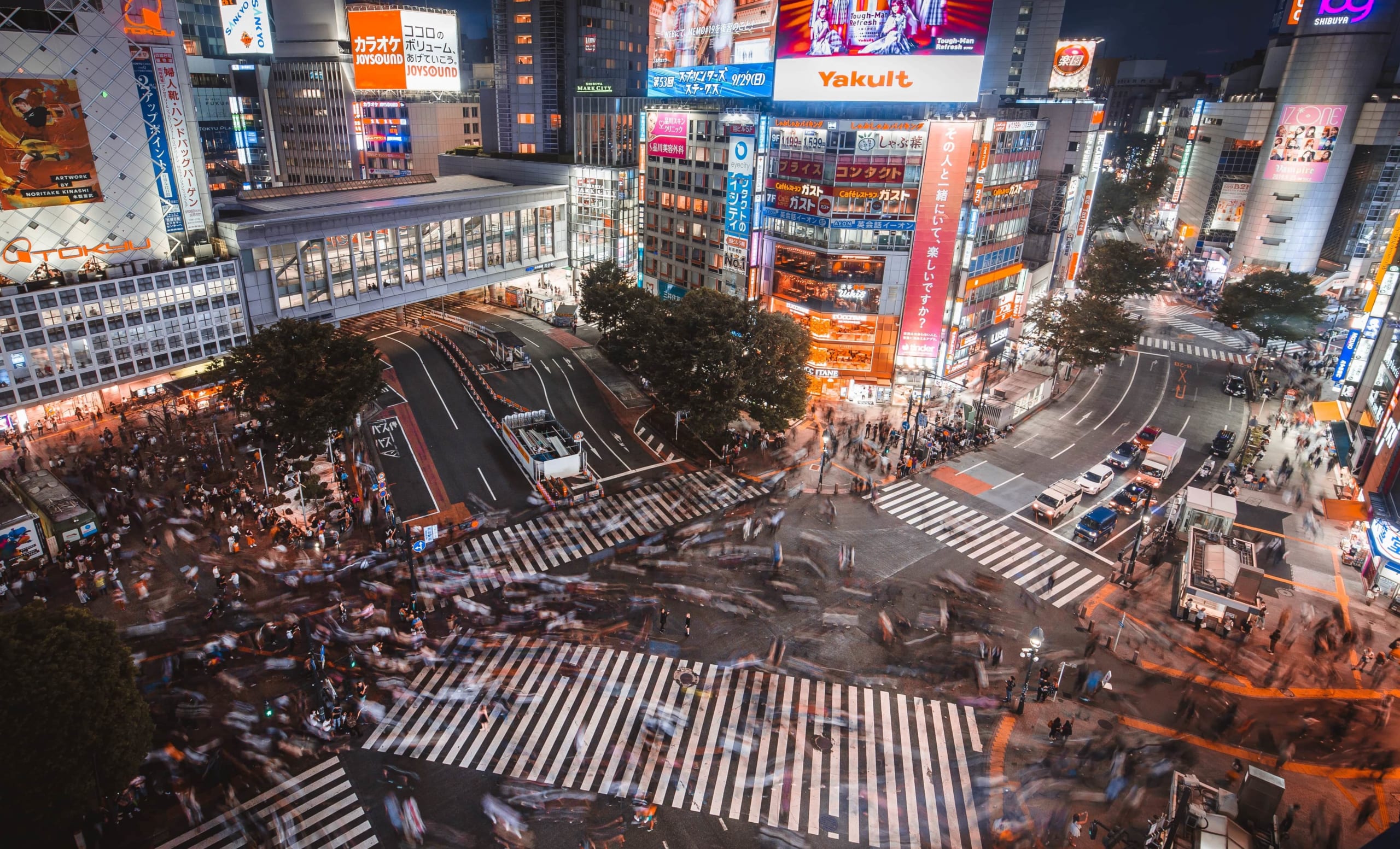 Shibuya Scramble Crossing has become the most iconic landmark in Tokyo as well as the popular photo spot after being featured on numbers of medias, and when you go there you'll see many tourists with cameras waiting for the best moment to shoot at the corner of crossing. The world's busiest crossing are passed by about a half million people daily, the view of passengers coming from the all directions at once when the traffic lights turn green is simply breathtaking!
Shibuya is known as Tokyo's most trendy district and it's home to Japanese young culture. Numbers of large shopping malls, small boutiques, discount stores, bars, clubs, cafes and restaurants are located here. It's a great area for shopping, dining and night-out.
When it comes to special events, the crossing and the surrounding area are tend to become the place for unofficial street celebration among young people. The most notable one is Shibuya Halloween, when thousands of party animals in unique Halloween costumes gather and roam around the street of Shibuya all night long.
2. Izakaya Alley: Get Tipsy like Locals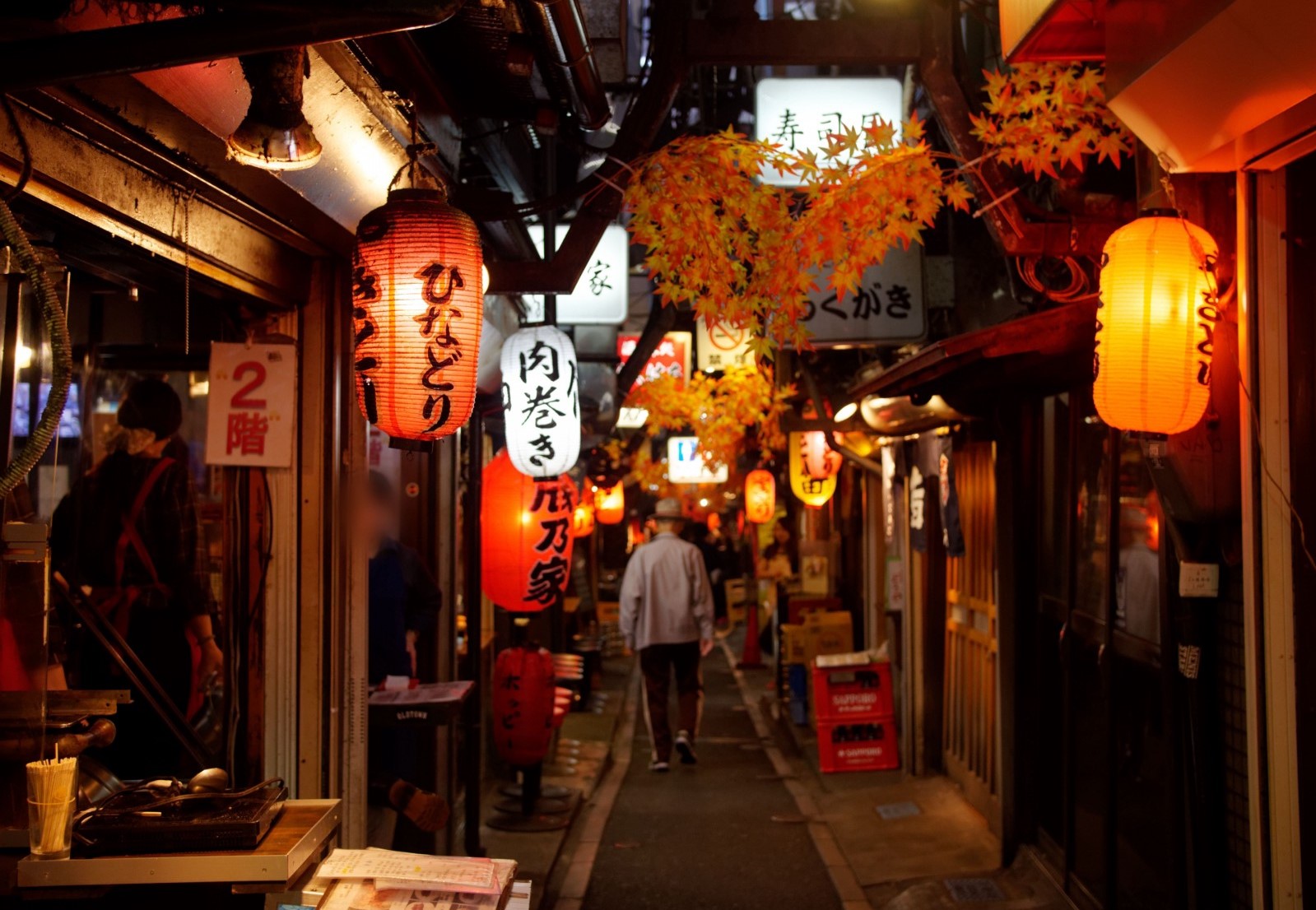 Tokyo has hundreds of thousands of fancy restaurants and bars serving fine and high-quality meals, but for more unique booze experience, Izakaya alley (Yokocho) is an amazing dining option.
Izakaya is Japanese style bar/gastropub serving drinks and Japanese food or snacks (at relatively cheap price usually). Izakaya bars are especially popular among salary man and locals to hop in right after work for a couple of beers. Izakaya alleys are old fashioned, smokey narrow streets clammed by small Izakaya bars. Some of Izakaya are very tiny and have only a few seats.
Sitting next to local and sipping a glass of Sake with authentic Japanese dishes/snacks could be a whole new experience for foreign tourists rather than dining at high-end bars. There are several atomospheric Izakaya alleys and drinking districts in Tokyo such as Shinjuku, Shibuya and Ueno.
One of the best ways to explore the drinking culture in Tokyo is joining bar-hopping tours! A lot of local Izakaya might be hard to find or enter for first time visitors, but the local bar hopping tour can take you to hidden bars and Izakaya and show you the real drinking culture in Tokyo!
Please check more details and find the best bar-hopping tours in popular areas Tokyo ▶ Tokyo Bar Hopping Night Food Tour in Shinjuku
3. Watch Sumo Morning Practice
Sumo is a national sport in Japan, considerably started in ancient time, and it's also one of most unique and interesting Japanese cultures for foreign tourists. Numbers of Sumo stables (training rooms) are located in Tokyo, especially in Ryogoku area (not too far from Asakusa area and the Tokyo Skytree), and some of them are open for public viewing of their morning practice.
I've personally participated this activity once and it was absolutely fantastic (▶Review). Watching Sumo wrestlers in action in such a close distance is totally breathtaking, and by knowing how hard they train physically and mentally, I started to admire the sport much more and respect the wrestlers. It's not cheap activity for every traveller, but it's definitely worth the money and one of the most precious experiences you can have in Japan.
▶ Watch Early Morning Sumo Training in Tokyo at a Sumo Stable
If you are in Japan in the right time of the year, it's also recommended to go and watch live matches of Sumo grand tournaments which are are held 6 times a year (3 times in Tokyo), and each one lasts for 15 days.
4. MORI Building DIGITAL ART MUSEUM — teamLab Borderless
MORI Building DIGITAL ART MUSEUM — teamLab Borderless opened in Odaiba area, Tokyo in summer 2018 as the very first digital art museum in the world. Since then, it has been one of the hottest spots in the city, and now become the must-visit tourist site for every traveller and an ideal weekend spot for residents.
The museum offers a unique interactive art experience with the latest high technology. Multiple digital art exhibitions are displayed in a huge space and the artworks are projected across walls and floors, and immersive installations of light and sound move and reflect by your movements and touches.
Lose yourself into the immersive digital artworks! Make sure to take to bring your camera as it's the perfect place to take Instagram photos.
Note: The iconic museum in the seaside area, which closed in August, 2022, is scheduled to relocate from Odaiba to the area across Toranomon, Azabudai and Roppongi in 2023.
▶ MORI Building DIGITAL ART MUSEUM: teamLab Borderless is Coming back to Toranomon-Azabudai Project in 2023
5. Sensoji at Asakusa: Visit Tokyo's Oldest Temple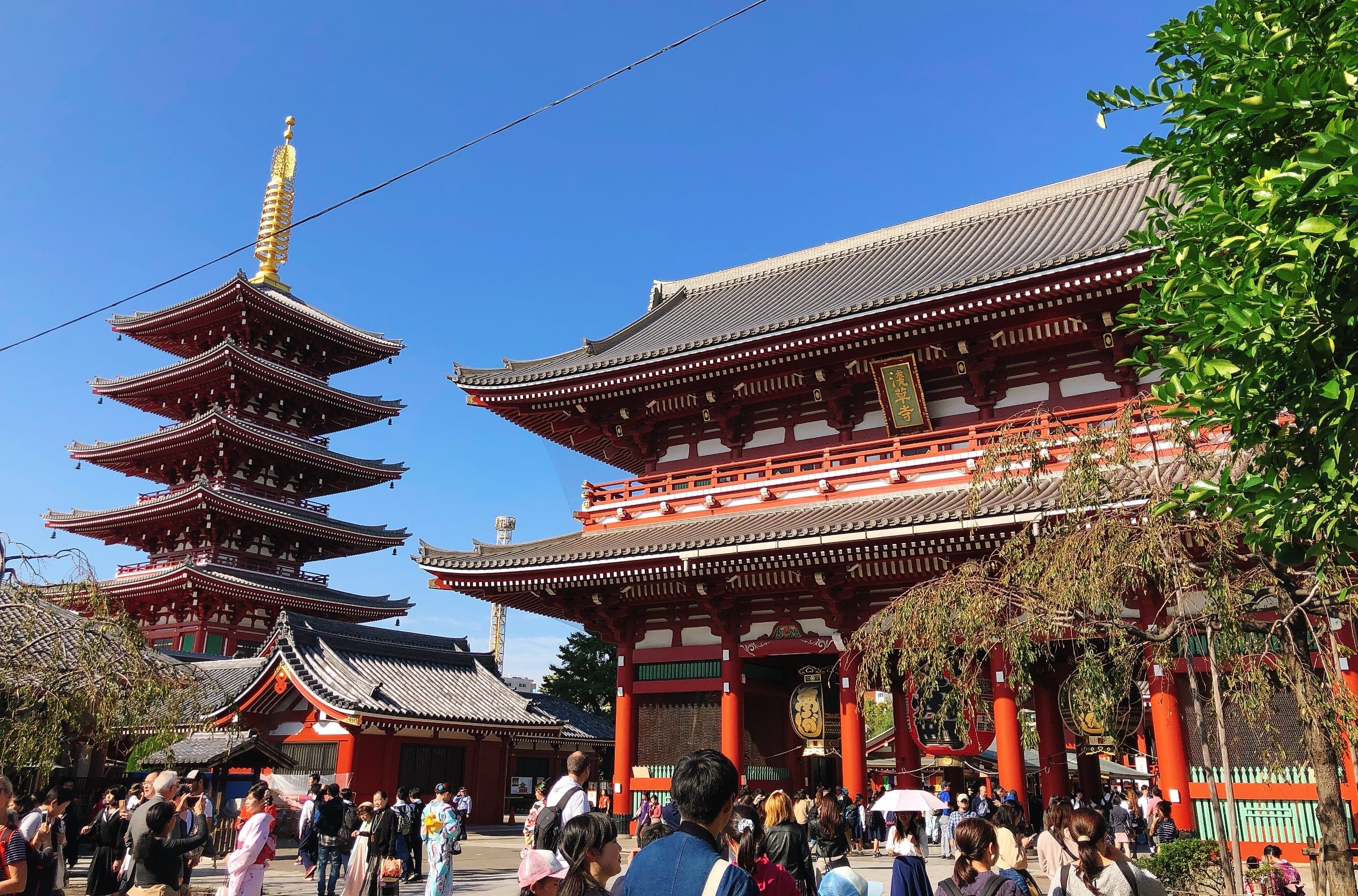 Sensoji Temple is Tokyo's oldest templs which is located at the historic center of the city, Asakusa area. Visitors enjoy taking photos of an iconic Kaminarimon gate, stroll down "Nakamise Street", the approach to the main hall of the temple with traditional street snacks. There are also numbers of Kimono shops and Rickshaw tours available nearby. Asakusa is a great area to experience the traditional Japanese culture and historic townscape while being in this modern Metropolis.
Asakusa is also an amazing district to eat traditional Japanese cuisine, as there are numbers of long-established Japanese restaurants serving authentic dishes such as Sukiyaki, Tempura and Sushi. Variety of traditional activities can be found in this area, such as riding Rickshaw, wearing Kimono dress, etc. Besides, the area is very close to other tourist attractions such as Tokyo Skytree, Sumida River, Kappabashi Street and Ueno area.
6. Viewing Cherry Blossoms in Spring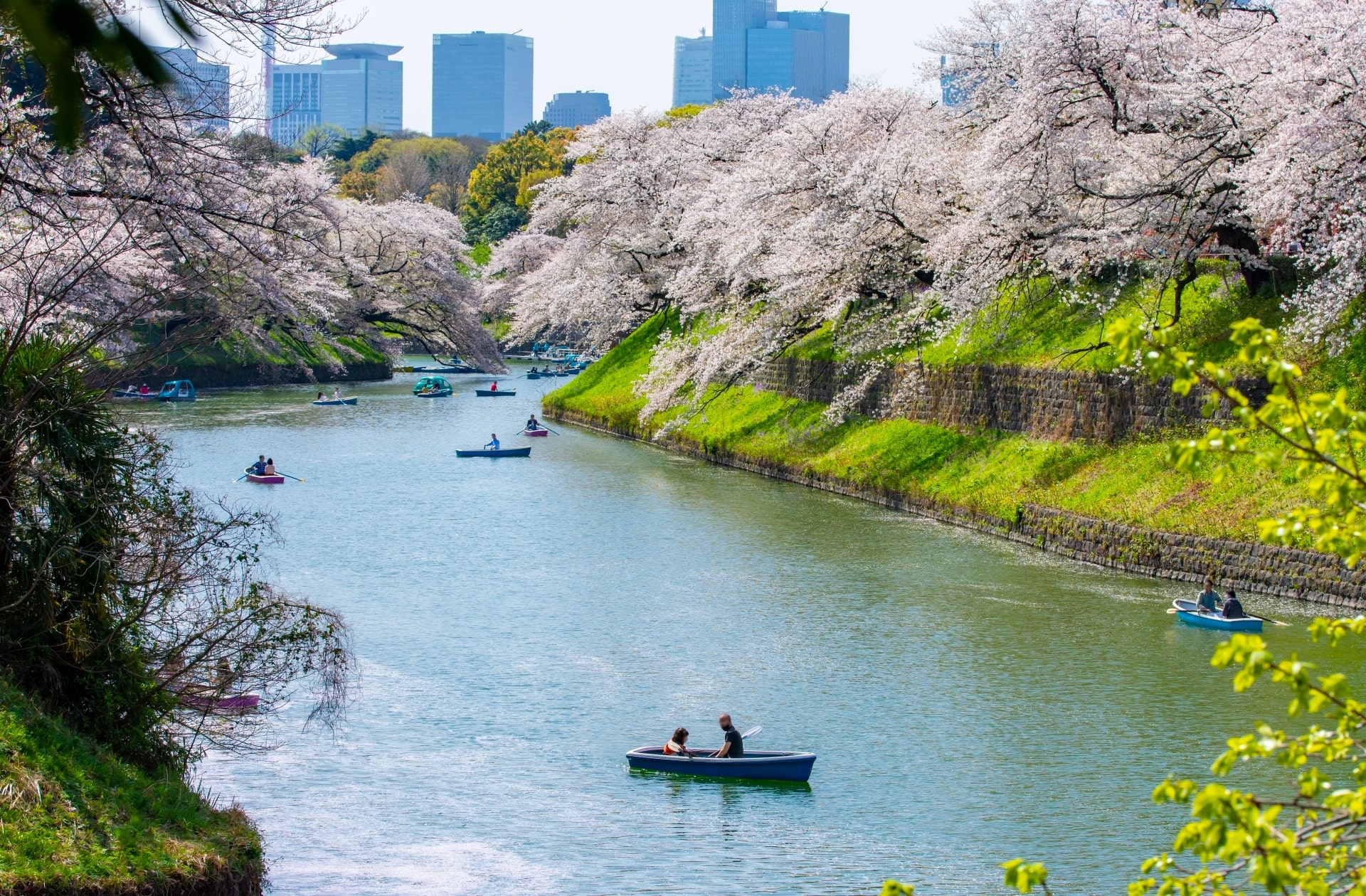 Tokyo, especially noted for skyscrapers and high technology, has richer nature than many first-time visitors expect. Spring is the most popular seasons to visit the country for beautiful cherry blossoms. There are dozens of places to see the gorgeous cherry blossoms that flourish around mid-late March and early April in Tokyo.
You can see sakura in full bloom in Tokyo's popular parks including Shinjuku Gyoen, Yoyogi Park and Inokashira Park. The greenery of the traditional Japanese gardens such as Rikugien Garden and Koishikawa Korakuen Garden is mixed with bright pink of cherry blossom in spring. Hundreds of cherry trees colors the sideways along Meguro River and Sumida River. Tokyo Midtown, an entertainment complex in the futuristic urban area Roppongi, shows the cherry blossoms lit up in the evening as well as various dining options.
▶ 15 Best Places to See Cherry Blossoms in Tokyo
7. Tsukiji Fish Market: Taste the Freshest Seafood
Tsukiji Fish Market was known as the world biggest wholesale market, and has been a top tourist attraction of Tokyo for many years. In 2018 autumn, the wholesale market (inner market) of Tsukiji was relocated to the brand-new site in Toyosu. The famou tourist attraction at the market, the tuna auction can now be seen at Toyosu Market.
Although the Tsukiji Fish Market has moved away, the outer market of Tsukiji remains same as before, and it's absolutely worth visiting. Tsukiji Outer Market is where hundreds of long-established restaurants and shops gather including Sushi restaurants, groceries, kitchen utensils stores and Japanese knife shops with the lively and authentic market atmosphere. Tsukiji is located very near to Ginza area where several Michelin starred fine restaurants are located.
▶ Click HERE to Book the Best Food Tour at Tsukiji Fish Market!!
8. Eat Wagyu Beef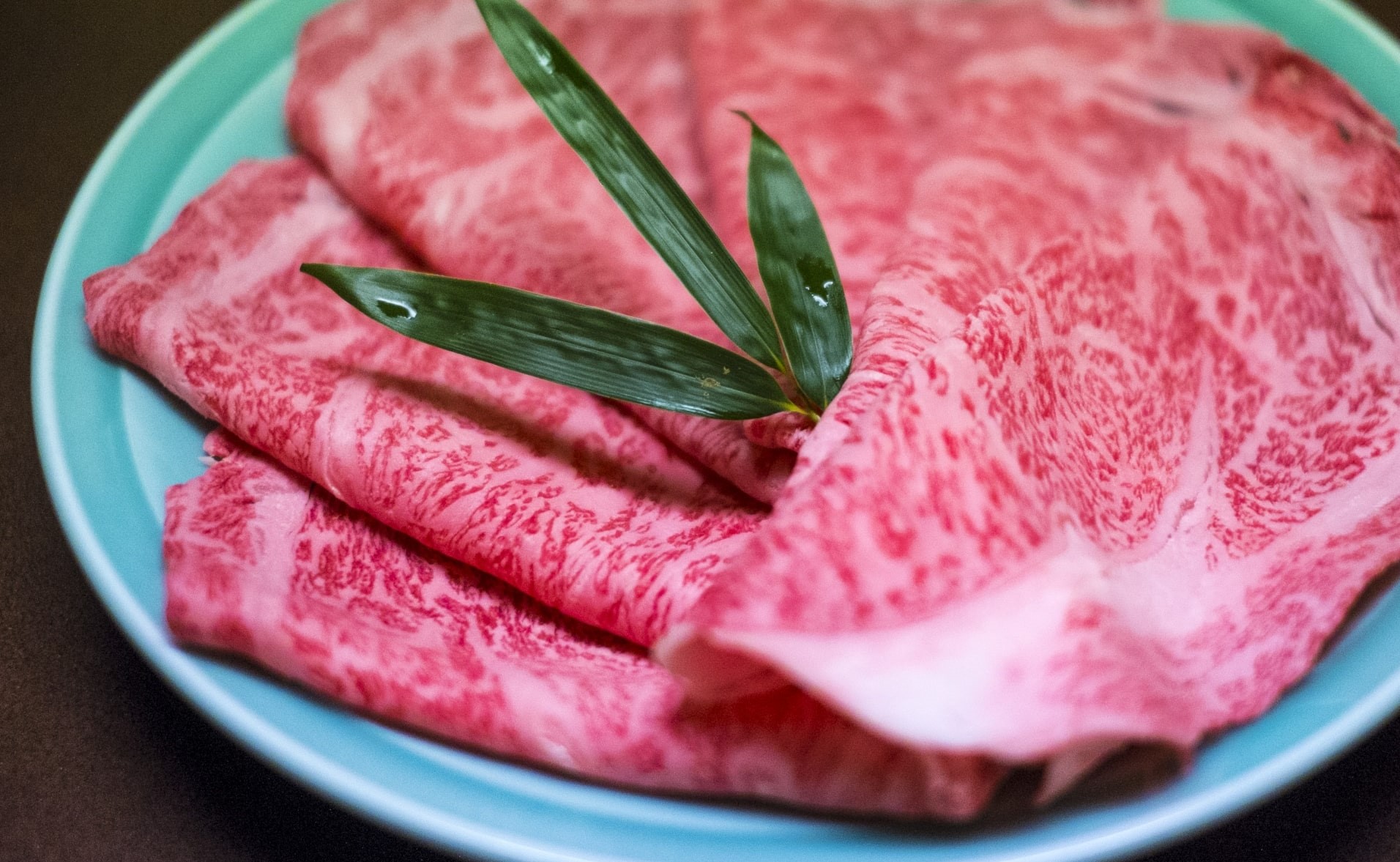 If you are a gourmand, you may already know where the best country to taste beef is. Japanese Beef "Wagyu" is one of must-try traditional food in Japan along with Sushi and Tempura. Japan produces several types of branded Wagyu Beef such as Kobe Beef and Matsuzaka Beef, and they can be enjoyed in various style of dishes such as Teppanyaki, Steak, Shabu-Shabu, Yakiniku (BBQ), etc.
In Tokyo, there are numbers of great restaurants serving delicious Wagyu dishes. Yes, they may be not a cheap option for eat-out, but they are relatively cheaper than other countries. I'd highly recommend you to have the premium Wagyu dining experience once during your trip. If you are tight on budget, having them for lunch could be much cheaper option.
The most popular restaurant to try Wagyu is Hakushu which is a family owned restaurant located in Shibuya district, Tokyo. The best quality Wagyu beef can be enjoyed with an authentic Teppanyaki style. The restaurant is extremely popular, so make sure to reserve a table in advance!
9. Gaze at/from Tokyo Tower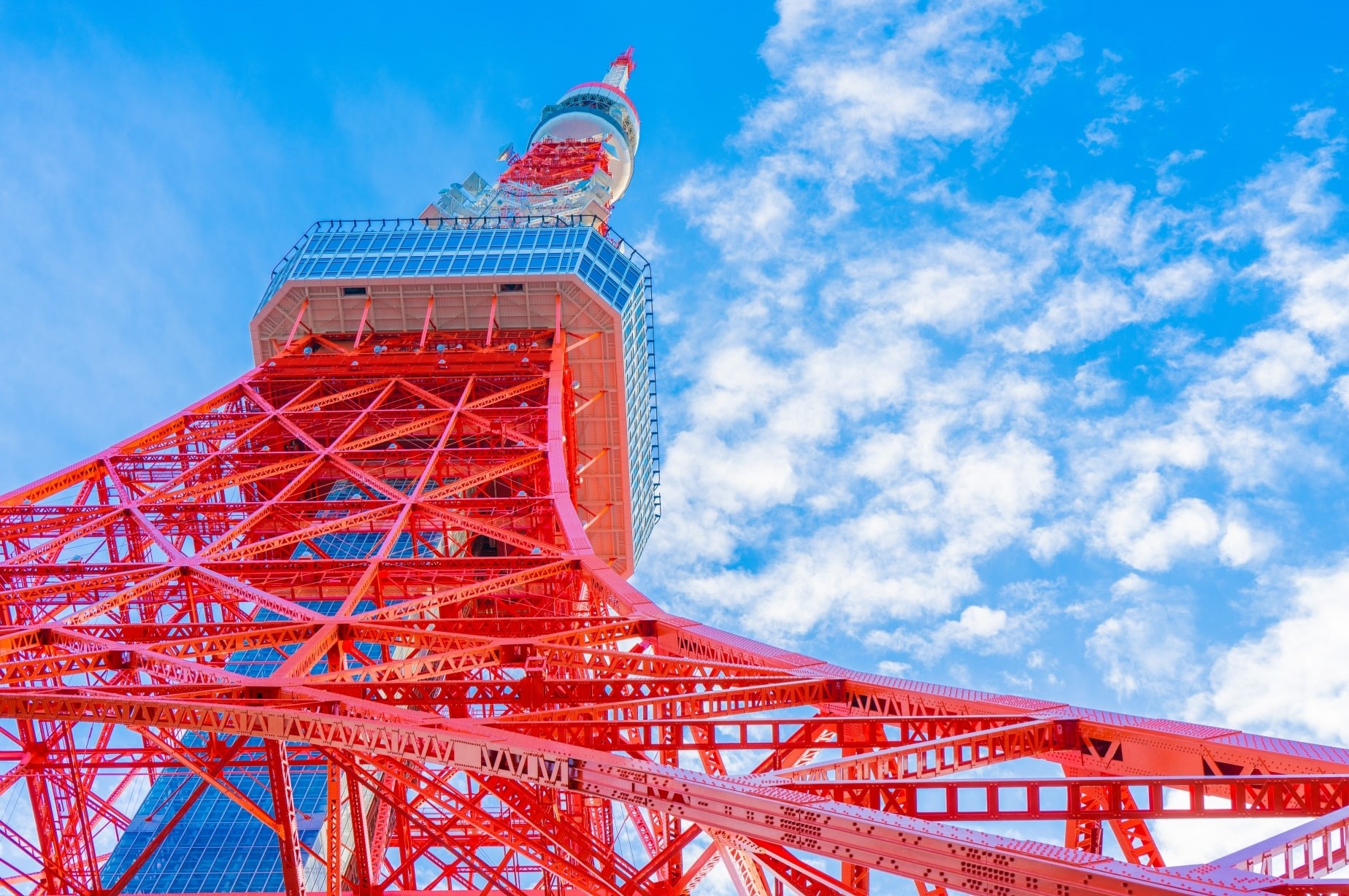 Tokyo Tower has been serving as the symbol of the city for many decades. Even though it may get less attention today after Tokyo Skytree opened, still it has been beloved and popular landmark of the city. Tokyo Tower is enjoyable either seeing it from distance or gaze the city from its observation deck of the tower itself.
There are several great Tokyo Tower viewing spots in the city, but my recommended is Zojoji Temple, which is located right next to the tower. The temple is the head temple of the Jodo sect of Japanese Buddhism, and it's strongly related to Tokugawa clan. The temple made an appearance in the film "The Wolverine", and became well-known. Or simply check the link below for more great viewing spots of Tokyo Tower.
10. Maid Cafe "Moe" Experience ONLY in Akihabara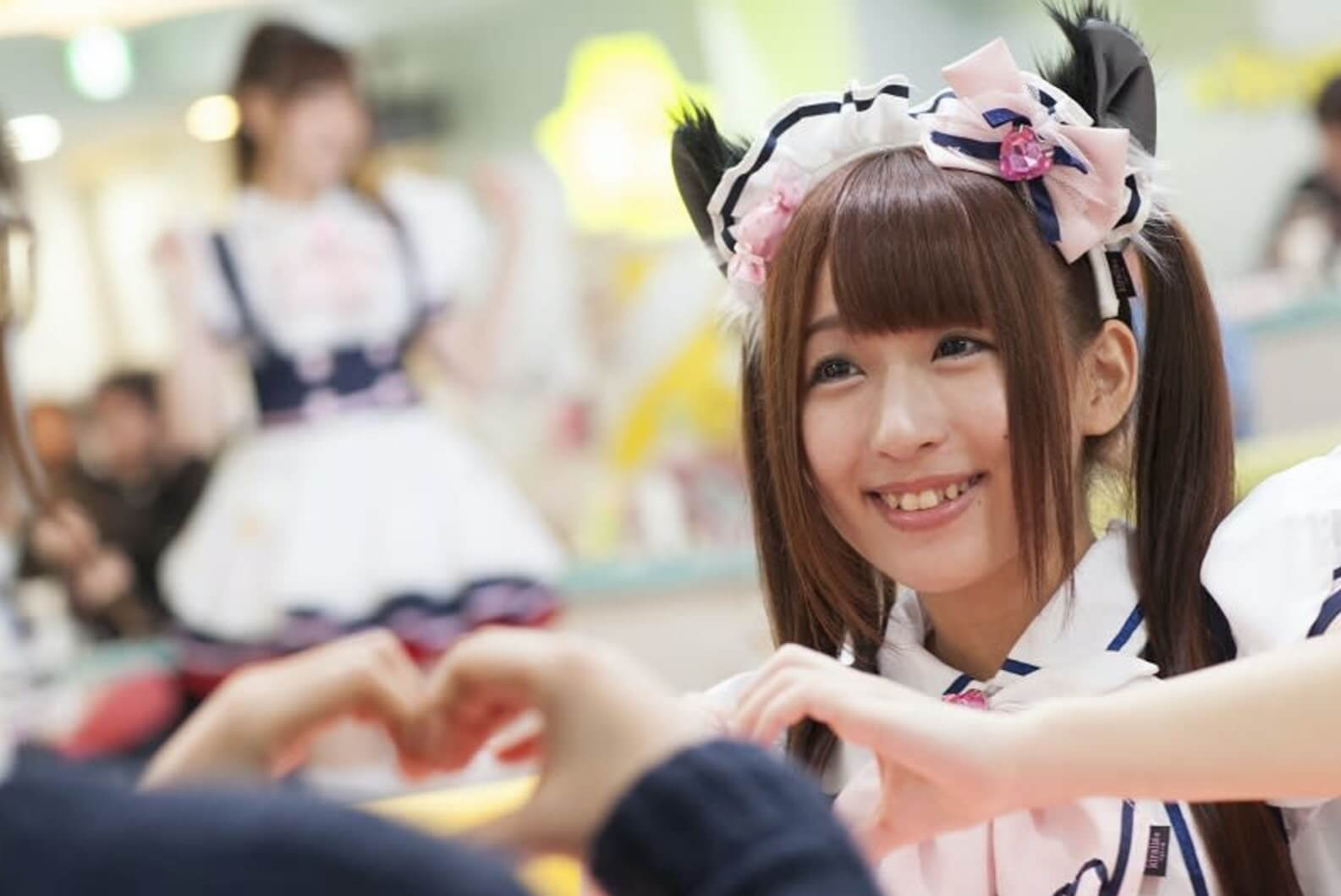 Akihabara, a.k.a. Akiba is one of most popular areas to visit in Tokyo, and the area is best known for electronic products and as home to the Otaku culture. Waking down the street of Akihabara is simply entertaining even for Japanese people. Even if you are not into Japanese Otaku culture (underground idols, gaming, anime, manga electronics, etc) Akihabara is still a great place to have a whole new Tokyo experiences.
One of the most unique things to do in this neighbourhood is visiting one of Maid Cafes. Apparently, Maid Cafe was originated in Akihabara and first started to becoming popular among Otaku, then eventually became one of the most popular tourist attractions in Tokyo. Be served by cute maid, enjoy colourful food and drinks and have the weirdest "Moe" experience in Tokyo!
▶︎ Maidreamin Maid Cafe Reservation in Tokyo
11. Visit Coolest UNIQLO Stores in City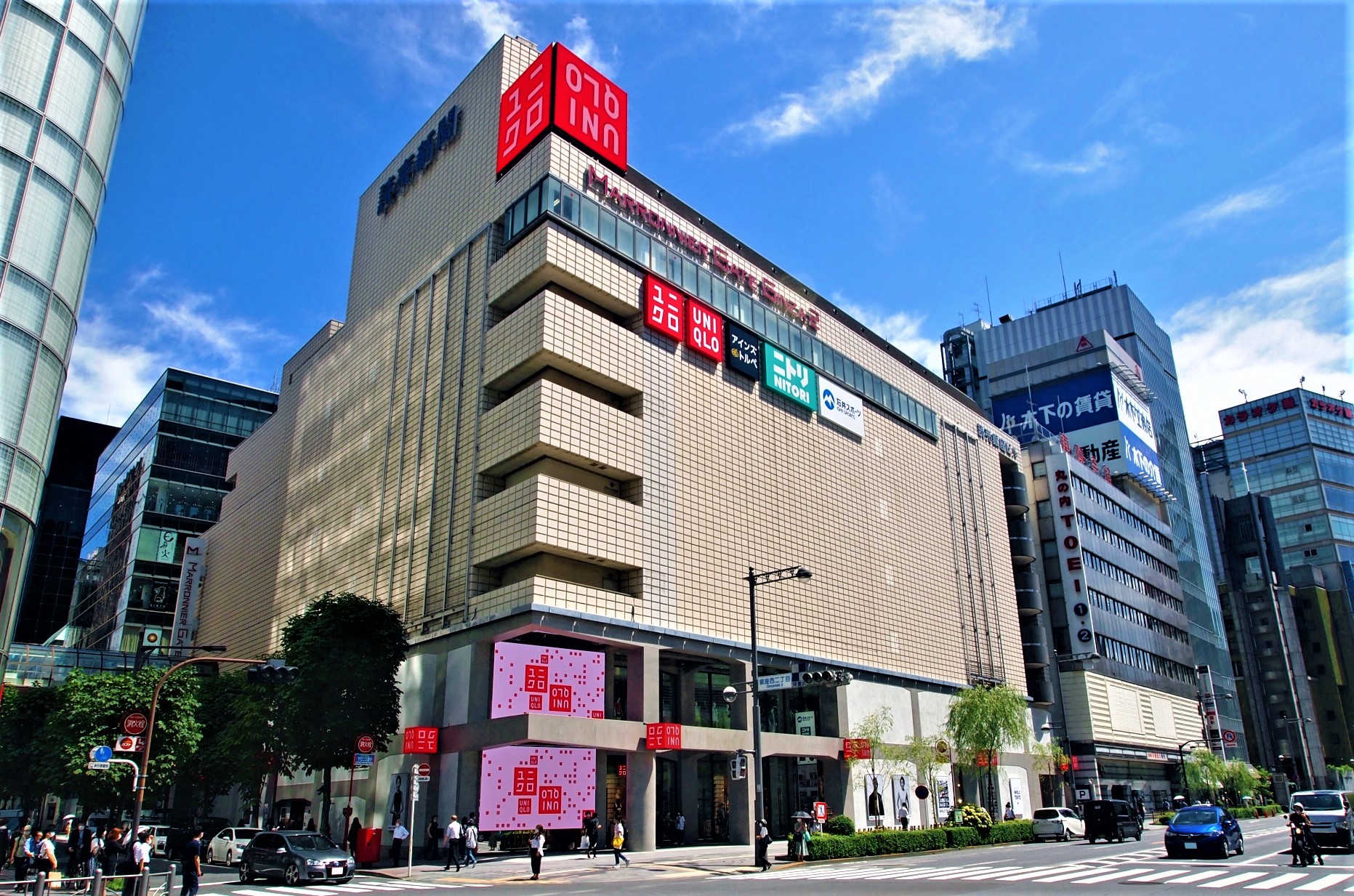 Japanese fast fashion retailer, UNIQLO offers a wide range of high-quality, affordable, and trendy clothing including smart and casual wear, functional innerwear with new technology and limited-edition graphic T-shirts. The brand has increased its popularity massively over the past decade and successfully grown its fan base worldwide. UNIQLO is one of the most popular places to shop in Japan among foreign visitors today.
There are currently over 800 UNIQLO stores across Japan and around 100 of them are located in Tokyo. In recent years, several new UNIQLO stores have been launched with cool features and concepts and offers unique shopping experiences. From global flagship store to swanky graphic T-shirts store, you can check our picks of the coolest UNIQLO stores in Tokyo from the below link.
▶ Best UNIQLO Stores to Visit in Tokyo
12. Rental Go-Kart: Drive through Tokyo's landmarks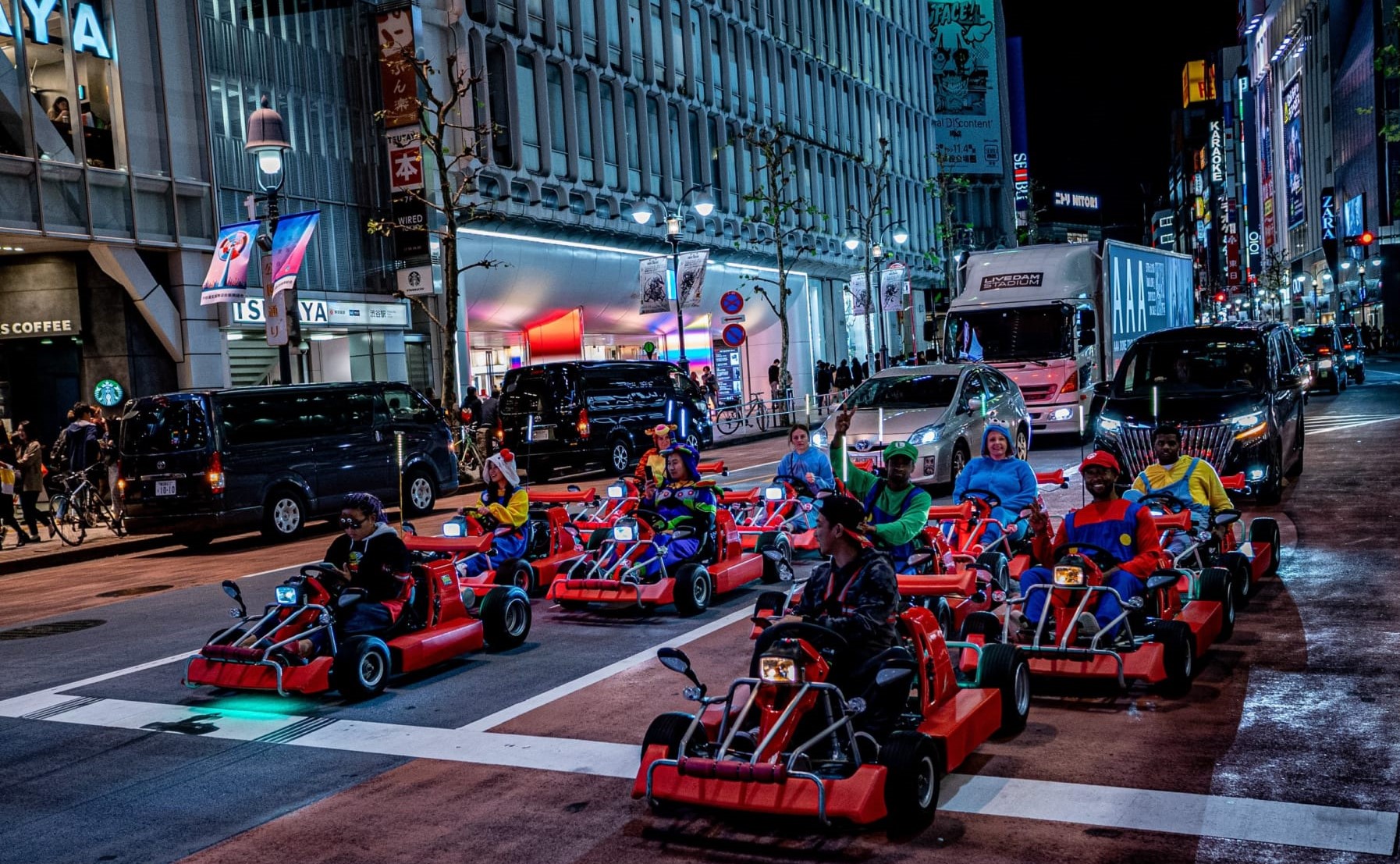 If you wish to experience traditional or unique cultures of Japan, participating special activities and tours are great options to add to your travel itinerary. There are various types of activities available in Tokyo from traditional cultural experience to modern high-tech activities, and Go Kart has been one of top choices among tourists in Tokyo in these days. With a valid Japanese/international driving license, you can drive Go Kart in character's costumes through the city just like in the video game, Mario Kart!!
Race with a group and drive through bustling areas of the city such as Akihabara, Shibuya and around Tokyo Tower. In the past, the British F1 racing driver, Jenson Button was captured driving go-kart on the road of Tokyo city, and seemed like he loved it!
13. Japanese Cooking Class: Be a Master Chef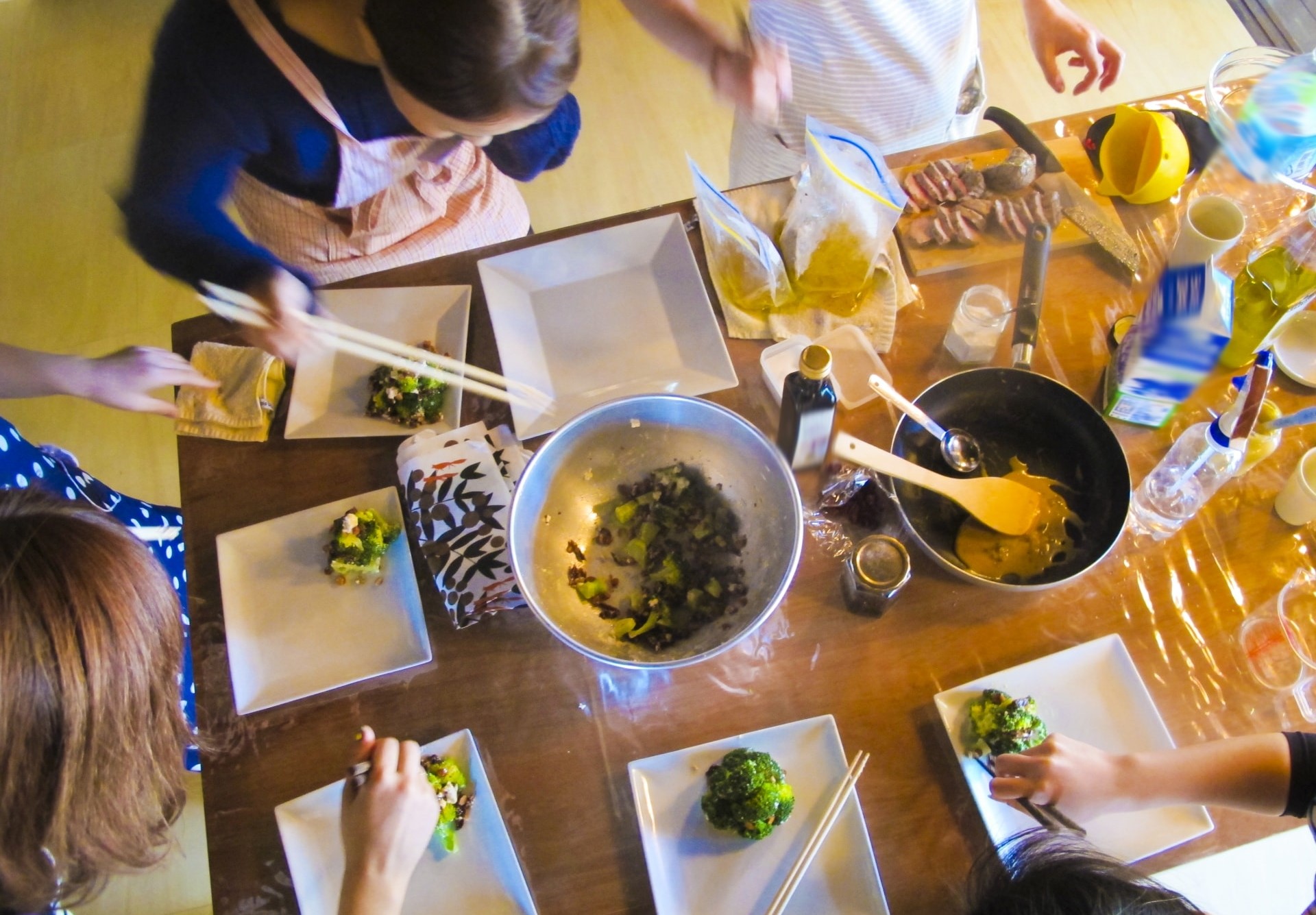 If you find eating at restaurants is too ordinary nowadays, you should definitely join one of cooking classes held in Tokyo. Japanese cooking class has been a popular activity among eager foodies travelling in Tokyo.
Not only typical Sushi making class, but a wide variety of cooking classes are available today such as Ramen, Gyoza (Japanese Dumplings), Udon Noodle, Wagashi (Japanese confectionery) and home cooking Japanese dishes as well as vegan and vegetarian options. You can pick your favourite Japanese food cooking class, learn how to make, enjoy tasting and bring the recipe back home to cook for your family and friends!
▶ Book authentic cooking class in Tokyo!
Most cooking classes are held by Japanese teachers in English. Cooking class is not only about making dishes, but it also provides a great opportunity for foreign visitors to communicate with local Japanese, to learn Japanese culture and to make friends through the class!
14. Ghibli Museum: Explore the World of Studio Ghibli Movies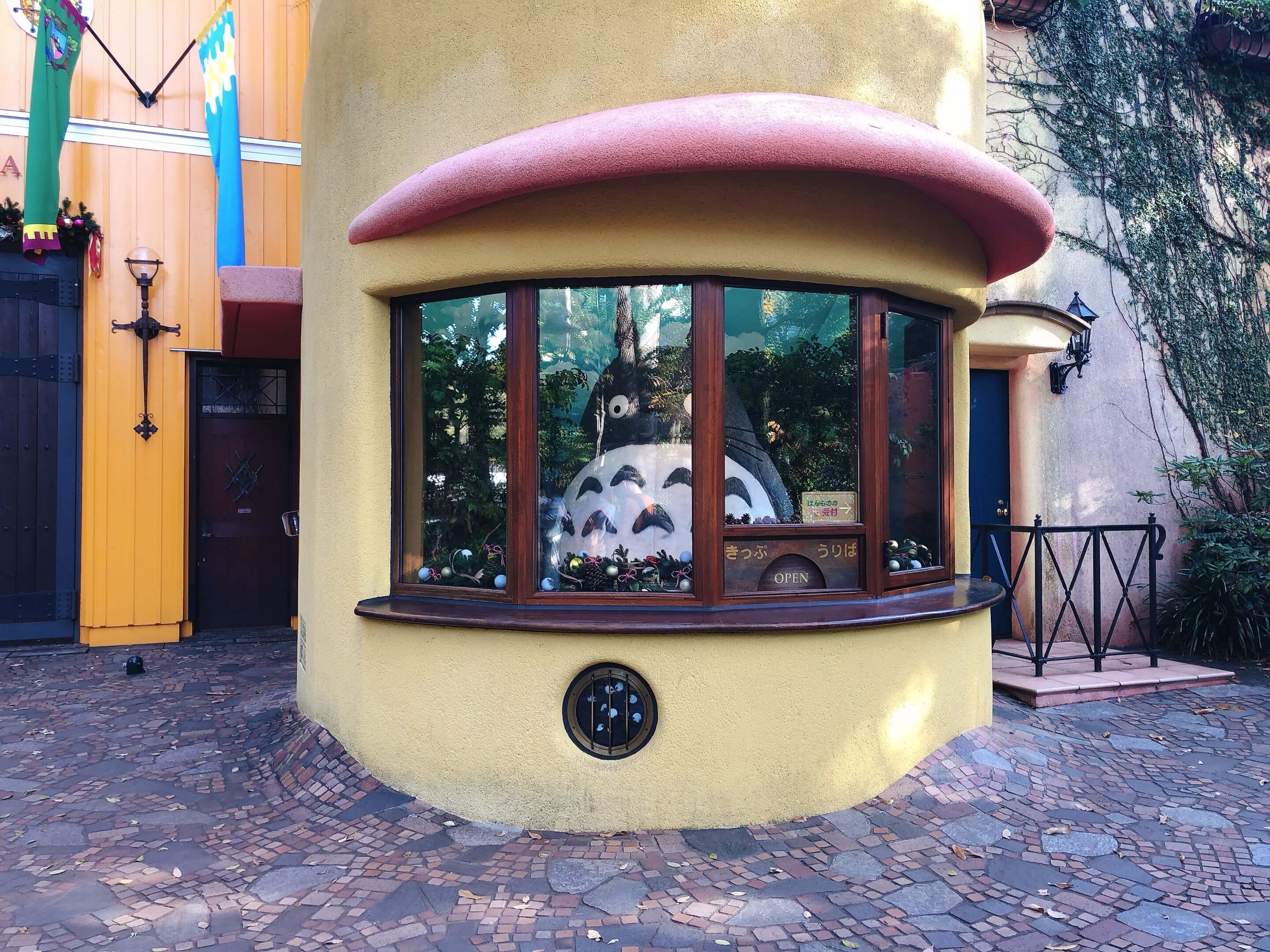 Studio Ghibli is a famous animation studio by Hayao Miyazaki who has produced numbers of popular films such as My Neighbour Totoro, Castle in the Sky, Nausicaa, Princess Mononoke, Spirited Away and Ponyo on the Cliff. His animation films are massively popular in Japan and overseas, and has inspired numbers of artists and film workers. Ghibli Museum is the only museum in Tokyo that is dedicated to the work of Studio Ghibli, and if you are a Studio Ghibli film fan, you should definitely visit there.
The museum features the art and technique of animation, and some famous film characters such as a replica of Cat Bus from My Neighbour Totoro and a robot from Castle in the Sky. There are also a cafe and gift shop inside the museum. The museum is located at Inokashira Park in Mitaka City, Tokyo.
Advance booking is required for Ghibli Museum (tickets are not sold at the museum) , so make sure to reserve tickets online before visiting.
15. Eat Tokyo's Best Ramen at Shinjuku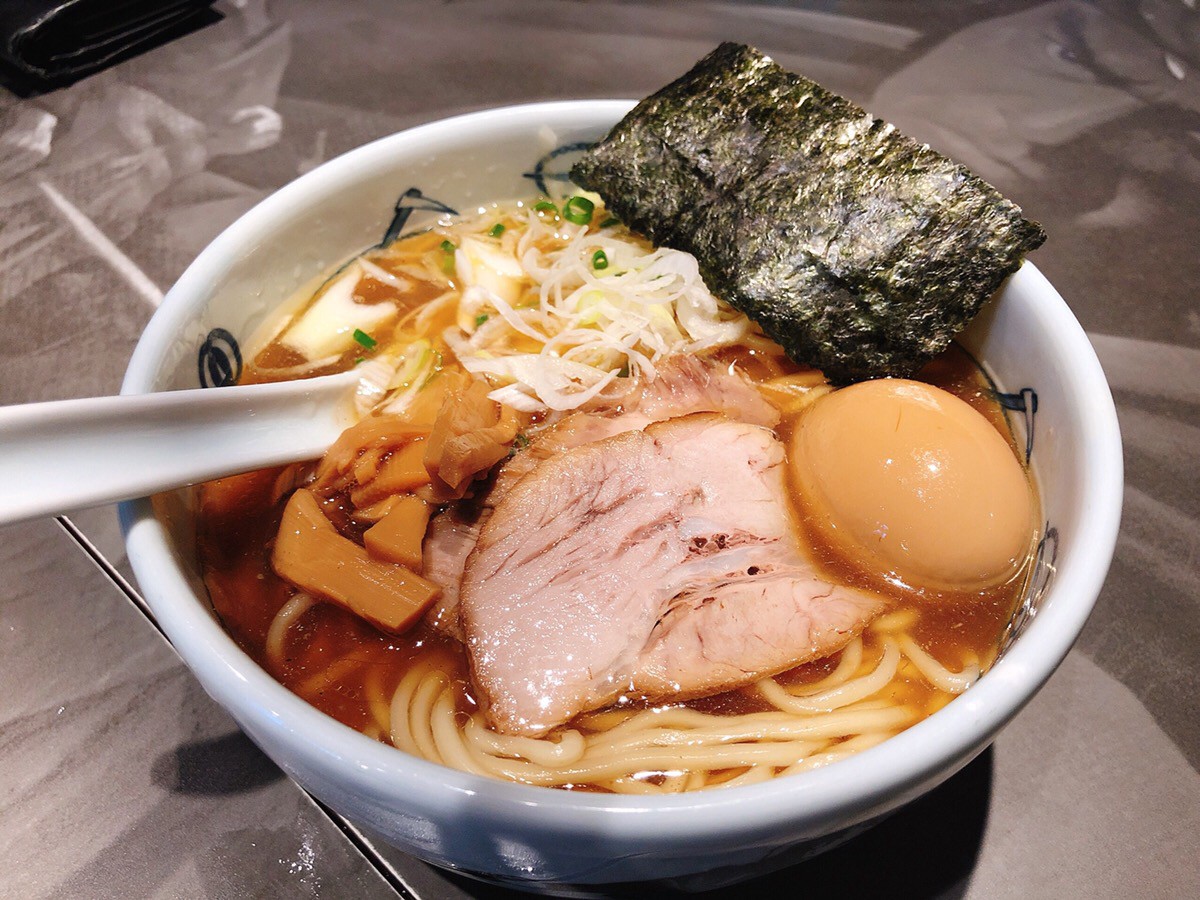 Ramen is one of most popular Japanese dishes among foreigners along with Sushi and Wagyu Beef, and it is indeed most beloved food among Japanese nations. There are thousands of Ramen restaurants in Tokyo, and Shinjuku area is particularly famous for having the biggest number of them (over 300), and it's often called the most competitive Ramen district in the city. So if you are a Ramen lover and hunting for the best Ramen in Tokyo, simply visiting Shinjuku would be the best option.
From everyone's favourite Ichiran to Tsukemen (dipping Noodles) and Halal Ramen, various kinds of ramen restaurants can be found in Shinjuku area. Be prepared to queue up for 30 mins or more at some popular Ramen stores, especially during lunch time!
16. Free City View at Tokyo Metropolitan Government Building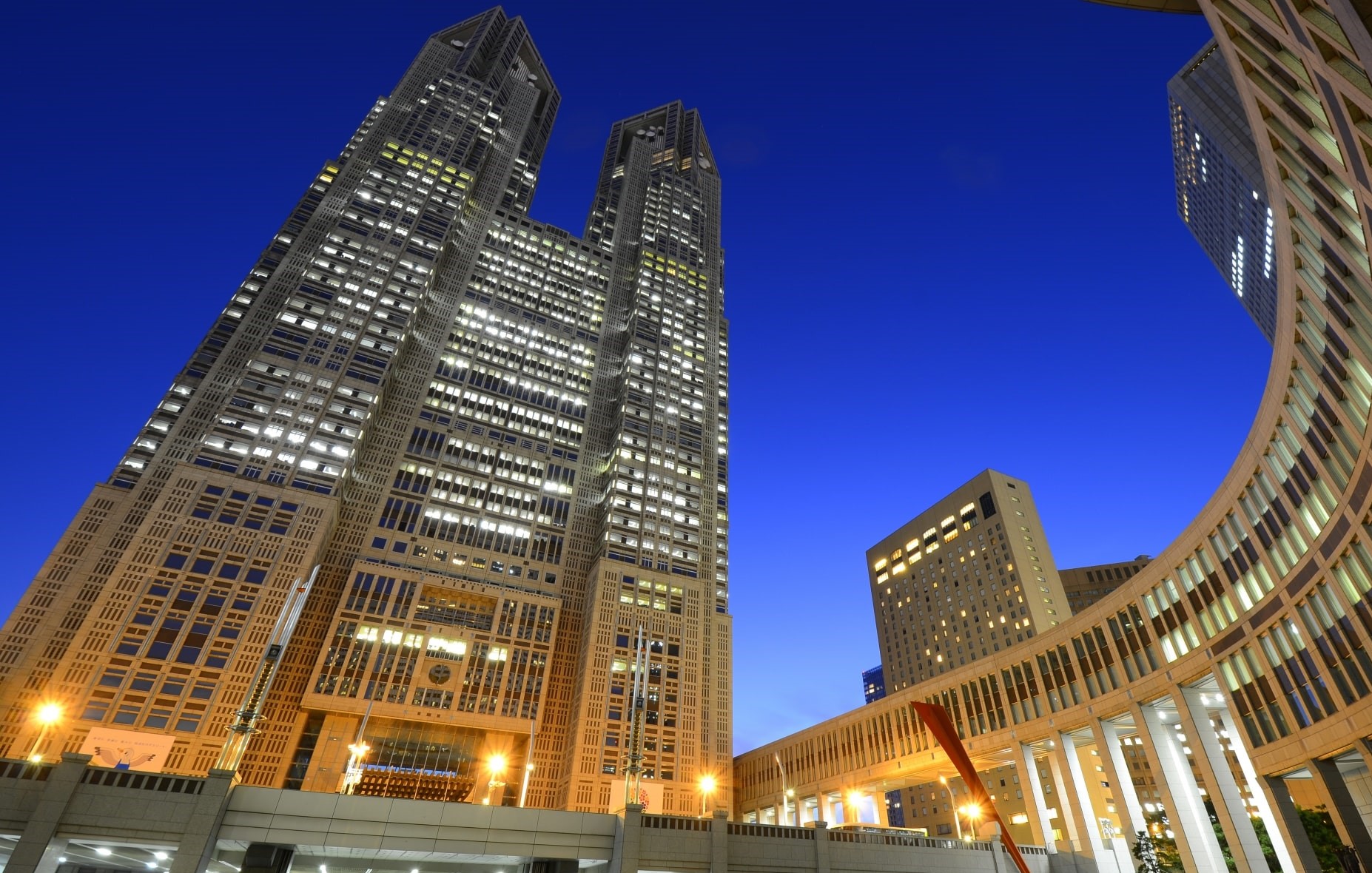 Visiting one of observatories in Tokyo is a must-do among tourists since the overlook view of the city is absolutely breathtaking especially at night. The reason why Tokyo Metropolitan Government Building is recommended is because its observation decks (there are two of them) on 45th floor, 202 m above the sea level are total free to enter while most of the observatories in Tokyo require an admission fee.
Moreover, the building is located in a short distance from the west gate of Shinjuku Station and the surrounding area is well known for skyscrapers. It's a great spot to hang around at night along with your visit to Izakaya Alleys or Robot Restaurants which are also located in Shinjuku area.
17. Harajuku: Be a Fashionista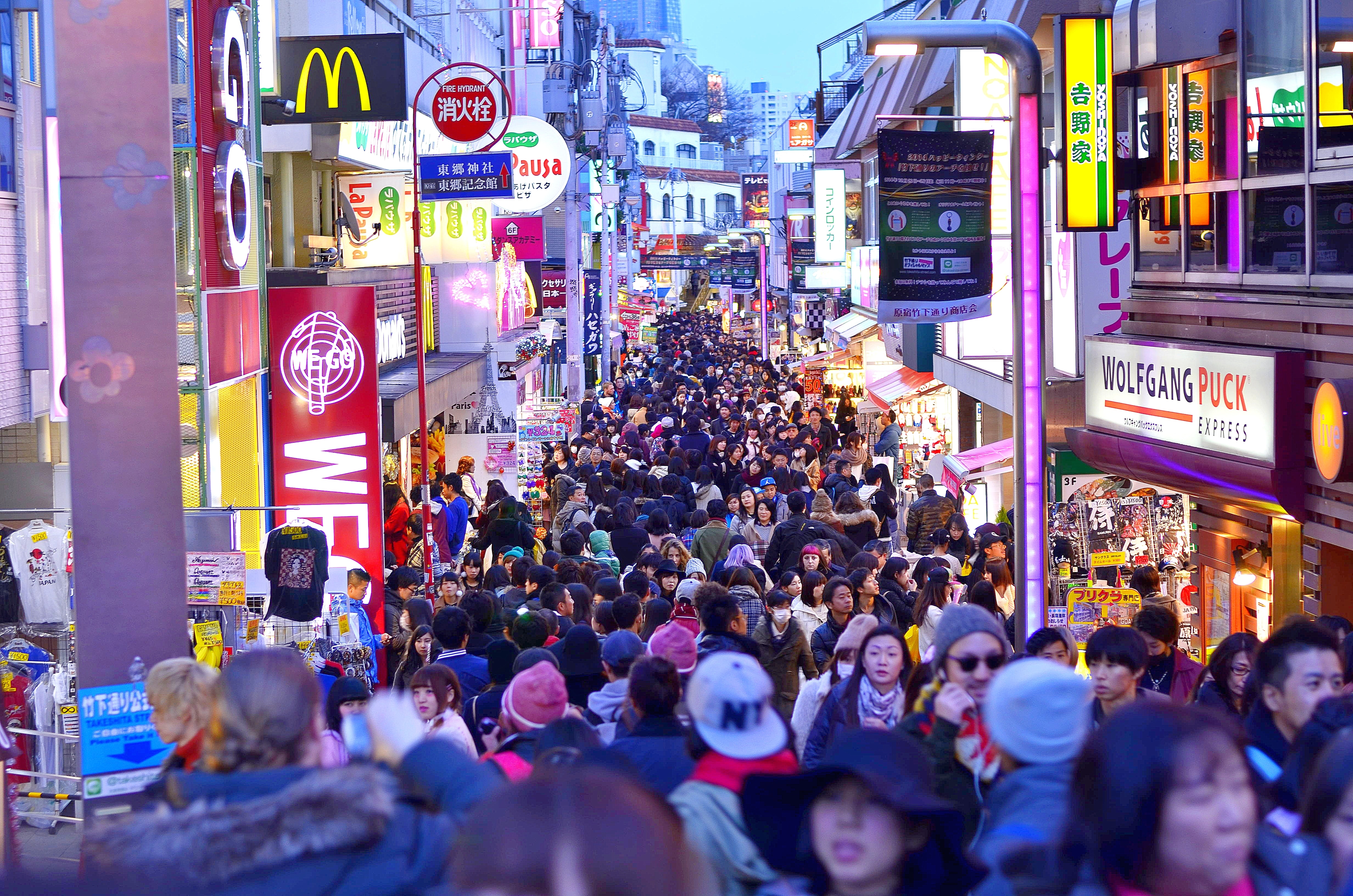 Are you into Kawaii culture or Japanese fashion? Then you'd probably know where to head to get what you need. Yes,the answer is Harajuku, the Kingdom of Kawaii Culture which is home to hundreds of chic and stylish boutiques, trendy shopping malls and cafes. Harajuku's Takeshita Street is the center of teenage culture where you can hunt trendy and colourful fashion items and unique variety goods at surprisingly affordable prices . Moreover, there are numbers of cafes and street food stands (crepe, cotton candy, etc) to stop for a break by while shopping. Harajuku is also a great area to explore street art and finding cool photo spots.
There are also numbers of high street clothing brand stores on the backstreets of Harajuku area such as Bape and Supreme. On the main streets of Harajuku, Omotesando Street and Meiji Street, there are large shopping malls like Laforet, Tokyu Plaza, and Omotesando Hills which are also suitable for adult. Harajuku is located near Shibuya area which you can easily walk inbetween (takes around 20 mins).
Explore the center of Tokyo's pop culture, Harajuku in a half day! Join the "Harajuku Fashion and Pop Culture Tour" and you can experience the best highlights of the neighbourhood including the important historical monument, the street of Kawaii culture and the colourful Instagram-Worthy cafe! See the link below and book the tour with special discount!
▶ Book Harajuku Fashion & Pop-Culture Tour!
18. Ueno Park: Play, Learn and Relax
Ueno Park is a spacious public park located in Ueno area, which is located within a short distance from Asakusa area and known as the center of Tokyo's old downtown district. Ueno Park consists of numbers of attractions and facilities such as museums, a zoo, historical monuments and rich nature. The park is especially popular place to visit during cherry blossom season as people enjoy Hanami (cherry blossom viewing party) there. The park is massive, so you can easily spend an entire day.
Along with Ueno Park, you should also visit Ameyoko Street, another notable tourist attraction in Ueno area. The shopping street has the vibrant and chaotic atmosphere with lots of discount stores, groceries, and street food stalls. Ueno and the surrounded has numbers of budget guests houses and it's a popular area for backpackers.
19. Odaiba: Be Entertained by Tokyo Bay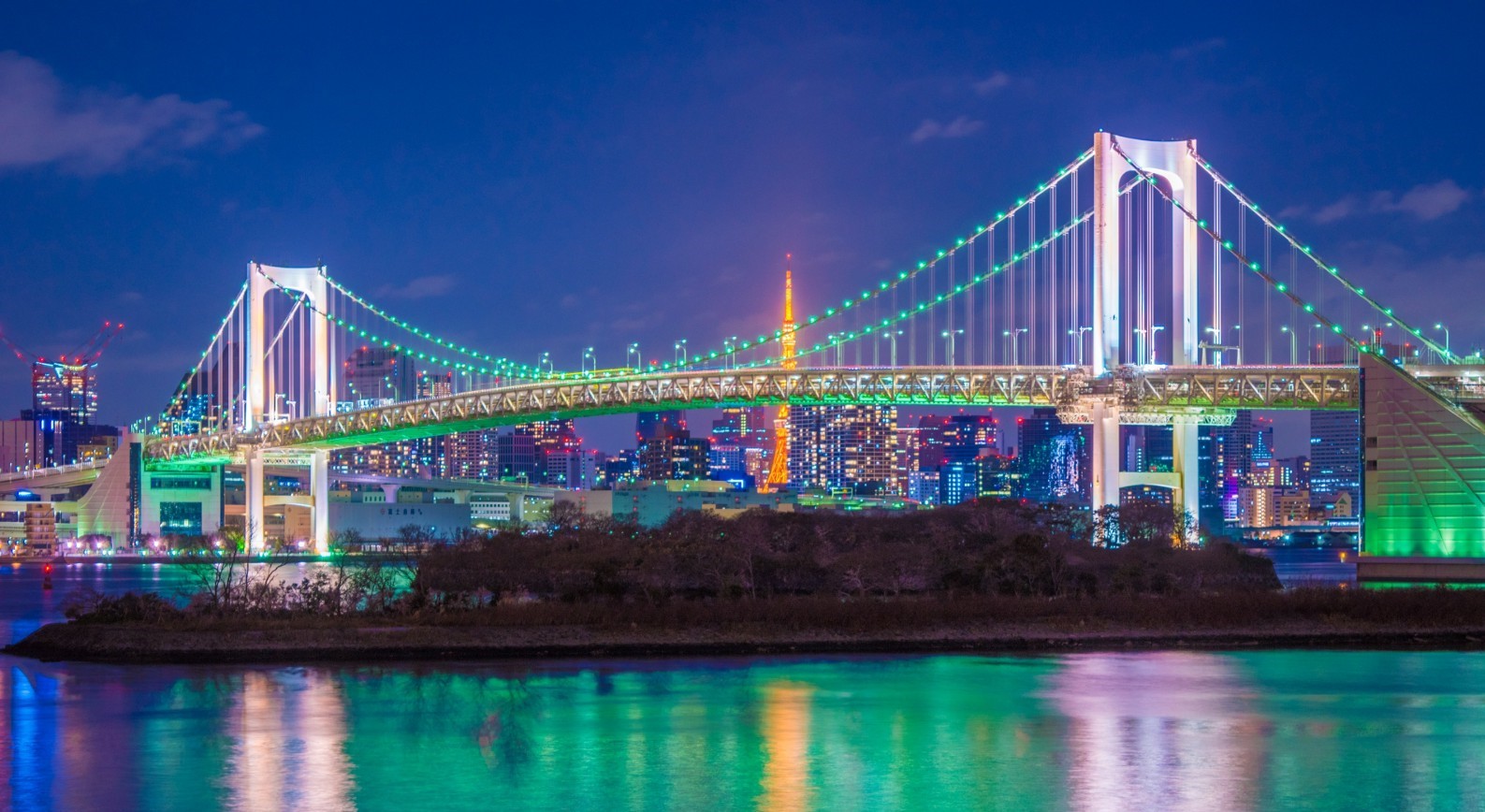 Odaiba is a district located on a man made island on Tokyo Bay, southern Tokyo, which can be accessed via the Rainbow Bridge or Yurikamome Line. Odaiba is one of the most entertaining districts in Tokyo where numbers of shopping malls, restaurants, museums and entertainment facilities gather. The area is especially known for high-tech entertainments such as robots at National Museum of Emerging Science and Innovation (Miraikan), digital arts at MORI Building DIGITAL ART MUSEUM and the latest VR at Tokyo JOYPOLIS. You can easily spend a whole day on this pleasurable island.
Odaiba is also famous for its stunning night view and very popular among photographers. The view of illuminated Tokyo Bay, the Rainbow Bridge and the skyscraper of the city on the other side of the ocean is absolutely amazing. Cruising on Tokyo Bay around Odaiba area is one of the most popular activities in Tokyo at night.
20. Get around the Center of Shibuya for Cutting-edge Shopping Complexes
Shibuya, one of the most popular tourist towns in the trendsetting city Tokyo, has been rapidly redeveloped recently. In addition to lots of existing attractions, several newly-opened commercial complexes have attracted more visitors from across the country and even overseas.
Shibuya Station is now surrounded by the hub for creative talents Shibuya Stream, the new landmark with the scenic observatory Shibuya Scramble Square, the open entertainment space Miyashita Park, the reborn source of pop culture Shibuya Parco and so on. Why don't you hop those buildings for shopping, dining and experiencing the newest culture?
21. Be Indulged with Matcha/Green Tea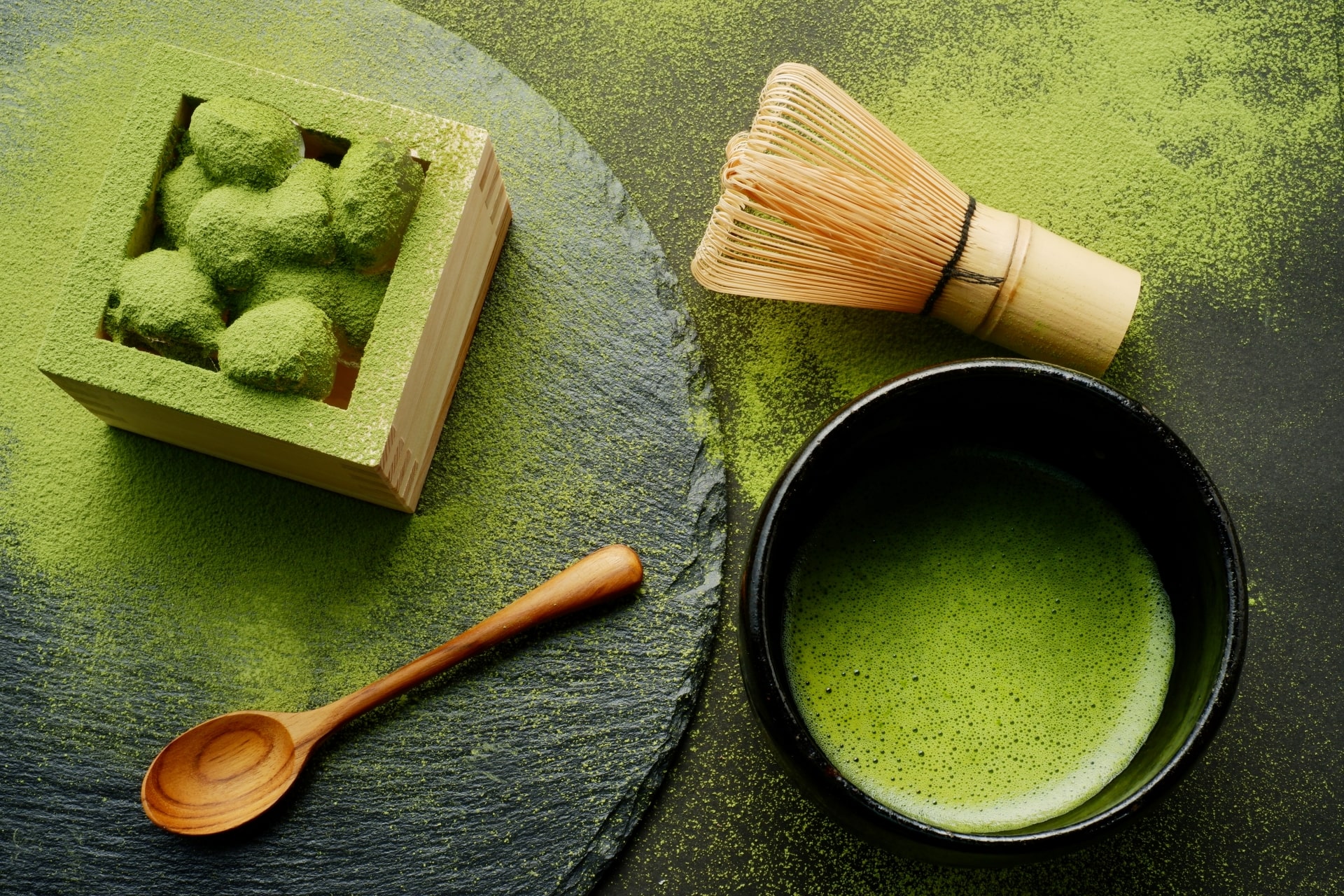 Matcha is highly popular around the world, and traditional Matcha tea ceremony is one of the most popular culture experiences in Tokyo today. Through traditional tea ceremonies, you can learn how to make fresh Matcha green tea using traditional utensils, be indulged with freshly made Matcha green tea with delicious Wagashi (traditional Japanese desserts) in an ancient style Japanese teahouse. Enjoy peaceful and tranquil "Zen" moments while being in the heart of Tokyo! You can also take an option to wear Kimono for even more authentic Japanese experience.
A popular Japanese tea ceremony workshops by MAIKOYA is available in Shinjuku, one of the most popular tourist destinations in Tokyo. Click the link below for more details about the experience and make a reservation on your wished date before it's too late!
▶ TEA CEREMONY TOKYO MAIKOYA – English, Downtown, Kimono
You can also enjoy Matcha at many locations in Tokyo now. Talking about Japanese food, Sushi, Tempura, Wagyu Beef and Ramen are popular dishes among tourists to Japan, but but Matcha is also now one of the most popular Japanese food products across the world. If you are a Matcha lover, it's time to spoil yourself with delicious Matcha desserts served in various ways including ice cream, parfait, mousse, pancakes and seasonal Matcha sweets buffets.
In Tokyo, there are numbers of teahouses and cafes serving delicious and creative Matcha desserts, and they are absolutely delightful! After enjoying Matcha desserts, don't forget to shop Matcha flavour sweets and snacks for souvenirs! Many of famous Japanese snacks like KitKat, Pocky and Meiji Chocolate are all sold in Matcha flavours!
22. Instagram-Worthy Food: Keep up with Food Trends
Being or finding Instagram-Worthy ("Instua Bae (インスタ映え)" in Japanese) things has been a huge travel trend in the whole world for the past few years, and Japan is not an exception, I mean, it's really huge here. Especially in food industory, many cafes and restaurants have been making massive efforts to impress Instagram users and created eye-catching, colorful dishes, desserts, drinks and shop decorations.
A lot of new Instagram-Worthy shops and cafes have opened in past years, especially in Harajuku area, the mecca of Kawaii culture. From unicorn cotton candy to light bulb soda, a lot of colourful instagram worthy food and cafes can be found in this area, as well as great street photo spots.
23. YANESEN: Explore Tokyo's Old-Fashioned Neighbourhood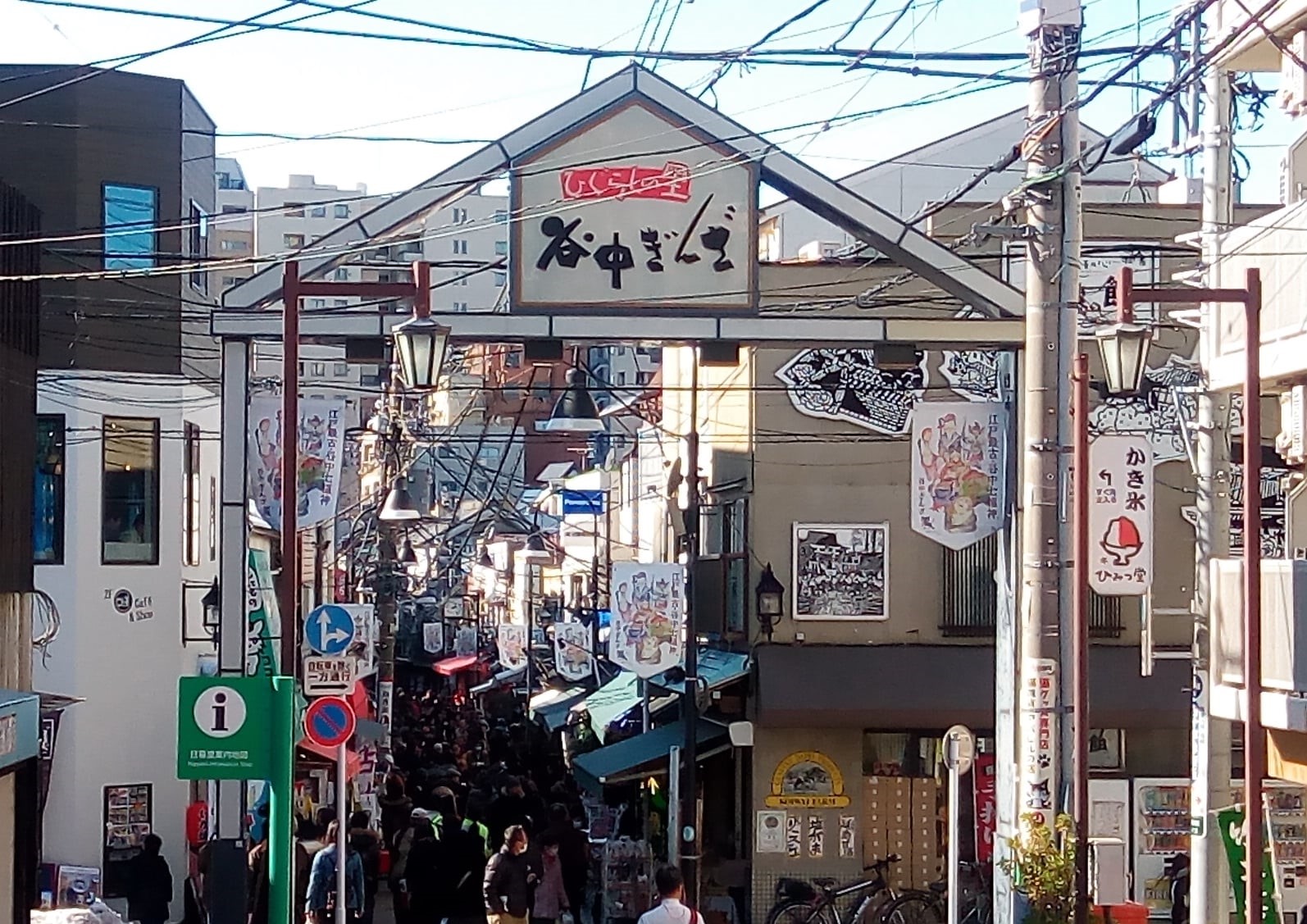 Tokyo is one of the most popular tourist destinations in the world today, and you may feel places are overcrowded by tourists anywhere you visit in Tokyo. If you wonder "Is there anywhere majority of tourists hasn't been?" or " Where are untouristic places in Tokyo??", you may wanna try Yanesen area on your next visit. For those who want to explore Tokyo in depth, Yanesen area is a perfect option.
Yanesen is an area consists of three neighbourhoods: Yanaka, Nezu and Sendagi in Bunkyo Ward. There are numbers of old buildings, historical temples and shrines, a retro shopping arcade and small cafes and restaurants. The shopping street of Yanaka, Yanaka Ginza is lined with numbers of small stores where local people shop, eat and hang out, and visitors can observe the real daily lives of locals.
Nothing fabulous or trendy, but this area with the authentic old Tokyo vibe is a quite new thing in this modern days, and has become one of hottest spots in town among Tokyoites in 2017, and for sure it will be soon among foreign visitors. The area is not too far from Ueno Park, and can be access even on foot for 20–30 mins.
24. Yayoi Kusama Museum: Meet the Queen of Pop Art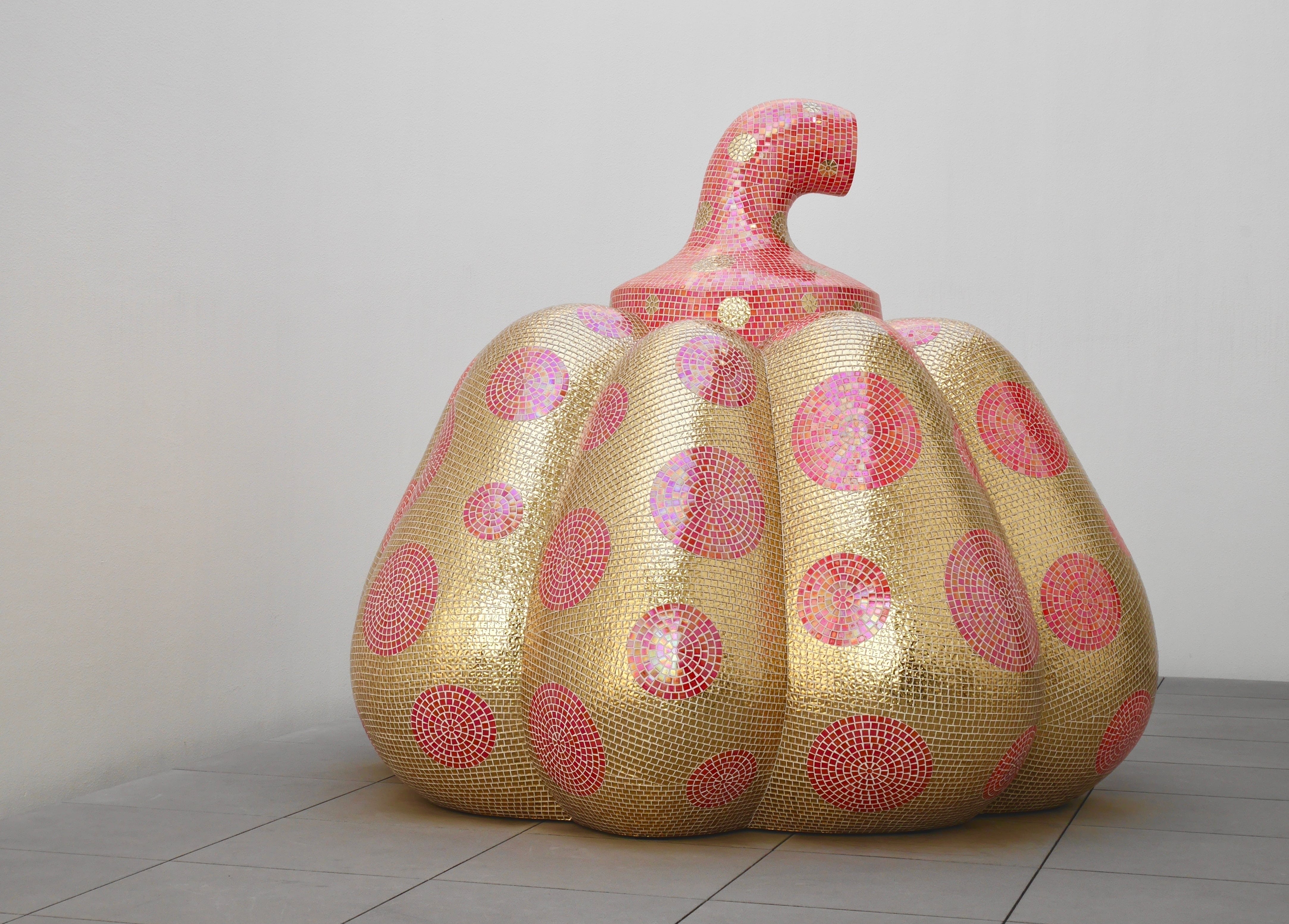 Yayoi Kusama is a famous Japanese contemporary artist, known as the Queen of Polka Dot. In the past years, she held several exhibitions in Japan including Tokyo and Kyoto for temporary time, drew a large number of visitors from Japan and abroad, and ended with great success. In October 2017, Yayoi Kusama's very own museum has finally launched in the heart of Tokyo, Shinjuku area after we have all been longing for it.
The museum is open from Thursdays to Sundays and National Holidays, from 11:00~17:00 with only four admission times with a 90 mins time slot. Tickets must be purchased in advance and they are sold only online, which are released at every first day of month for for two months in advance.
So far, the museum has been extremely popular, and tickets seem to be sold out right after releasing so make sure to secure your tickets before visiting.
25. Enter the VR (Virtual Reality) World
VR (Virtual Reality) is one of the hottest and the most cutting-edge experiences in the worlds nowadays, and now it became pretty accessible to everyone. In Tokyo, more and more new spots are opening for the latest VR experiences with various themes such as video games and traditional Japanese experiences.
At some VR theme parks provide multiple games and activities where visitors can spend all day, and it's a great option especially on a rainy day. Recommended VR spots in Tokyo are VR Park Tokyo in Shibuya, Joypolis in Odaiba, Sunshine City in Ikebukuro and VR Ninja Dojo in Akihabara.
26. Shop Everything You Need at Don Quijote (DONKI)
When travelling in Japan, you should save a lot of time and space in your suitcase for shopping. There are numbers of department stores, shopping malls and large supermarkets in town where you can shop various products in Tokyo, but you get confused which stores to choose, there is one store that can fill most of your needs. It's Don Quijote (a.k.a. DONKI), the store which has (almost) everything. Snacks, sweets, cosmetics, clothes, electronic products, household goods, unique and traditional souvenirs, and many more.. there is literally nothing that you can not find in Don Quijote. Moreover, many products are cheaper than other shops.
Don Quijote stores are located at many locations in Tokyo including Shinjuku, Ginza, Akihabara and Roppongi but its biggest branch, MEGA DONKI is located in Shibuya, which has a renewal open in a couple of years ago. The 7 storied mega building is located near Shibuya Station and it's open for 24 hours which means you can shop anytime you want!
27. Temples and Shrines: Be a Historian in Tokyo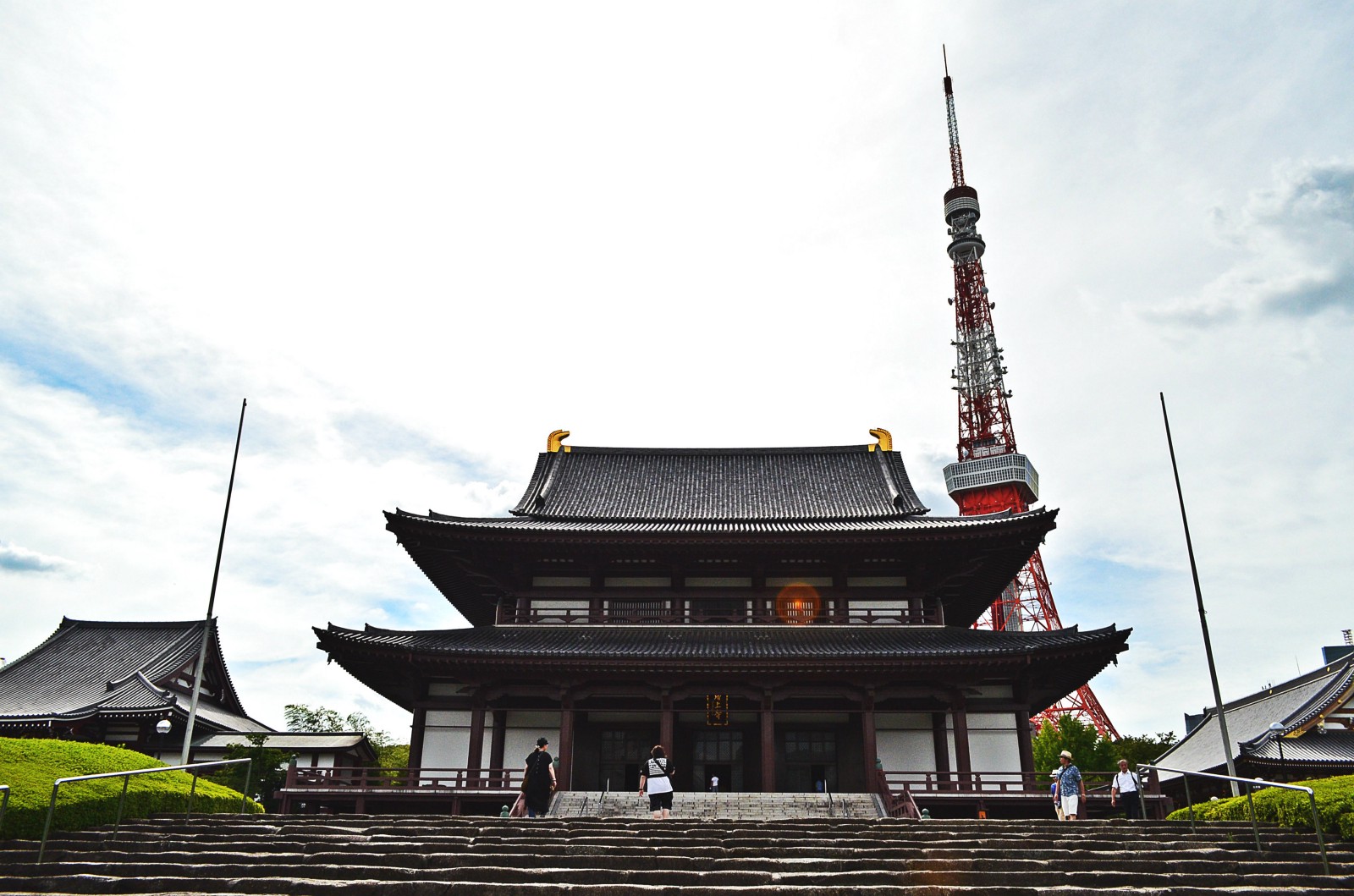 One of the most fascinating things about Tokyo is the co-existing of the historical and modern culture. While being surrounded by concrete and skyscrapers in the heart of Tokyo, you may often spot historical sites such as temples and shrines.
Accordingly, there are over 4,000 temples and shrines existing in Tokyo today, and some of them are top tourist attractions among tourists today such as Sensoji Temple in Asakusa and Meiji Shrine in Harajuku. There are also several unique temples and shrines in Tokyo with remarkable features, interesting history or divine favour, which are very much worth visiting.
28. Stay at Ryokan: Experience Traditional Japanese Hospitality
Ryokan is a traditional Japanese style hotel, offering authentic Japanese rooms and hospitality in a historical building. Even though Tokyo is filled with modern accommodations such as luxurious hotels, stylish guest houses and capsule hotels, there are still numbers of great Ryokan style accommodations where you can experience the authentic Japanese staycation experience.
It's a great way to learn Japanese culture and be surrounded by a peaceful and serine atmosphere. You may think that Ryokan style accommodation provides the high-end services and is quite pricey, but some Ryokan are cozy, rustic and more affordable than other hotels in Tokyo.
29. Enjoy 4 Seasons at Japanese Gardens
Although Tokyo is famous for its modern skyscrapers and chaotic streetscape, there are also some oasis in the city. Several traditional Japanese gardens such as Rikugien and Shinjuku Gyoen are located in the heart of Tokyo, and they are great hideaways where people can take a moment to relax and appreciate the nature and Japanese tradition in peace and quiet space. Also Tokyo is home to several great parks such as Yoyogi Park and Imperial Palace where you can feel the pleasant nature while being in a concrete jungle.
The gardens and parks are recommended to visit all year round as the nature displays different scenery in each season. But two most popular seasons to visit are during cherry blossom season (usually from late March to early April) and autumn leaves season (usually from mid November to early December). Several gardens holds light-up events at night during these periods as well as various seasonal events at parks.
30. Take a Day Trip to Neighbours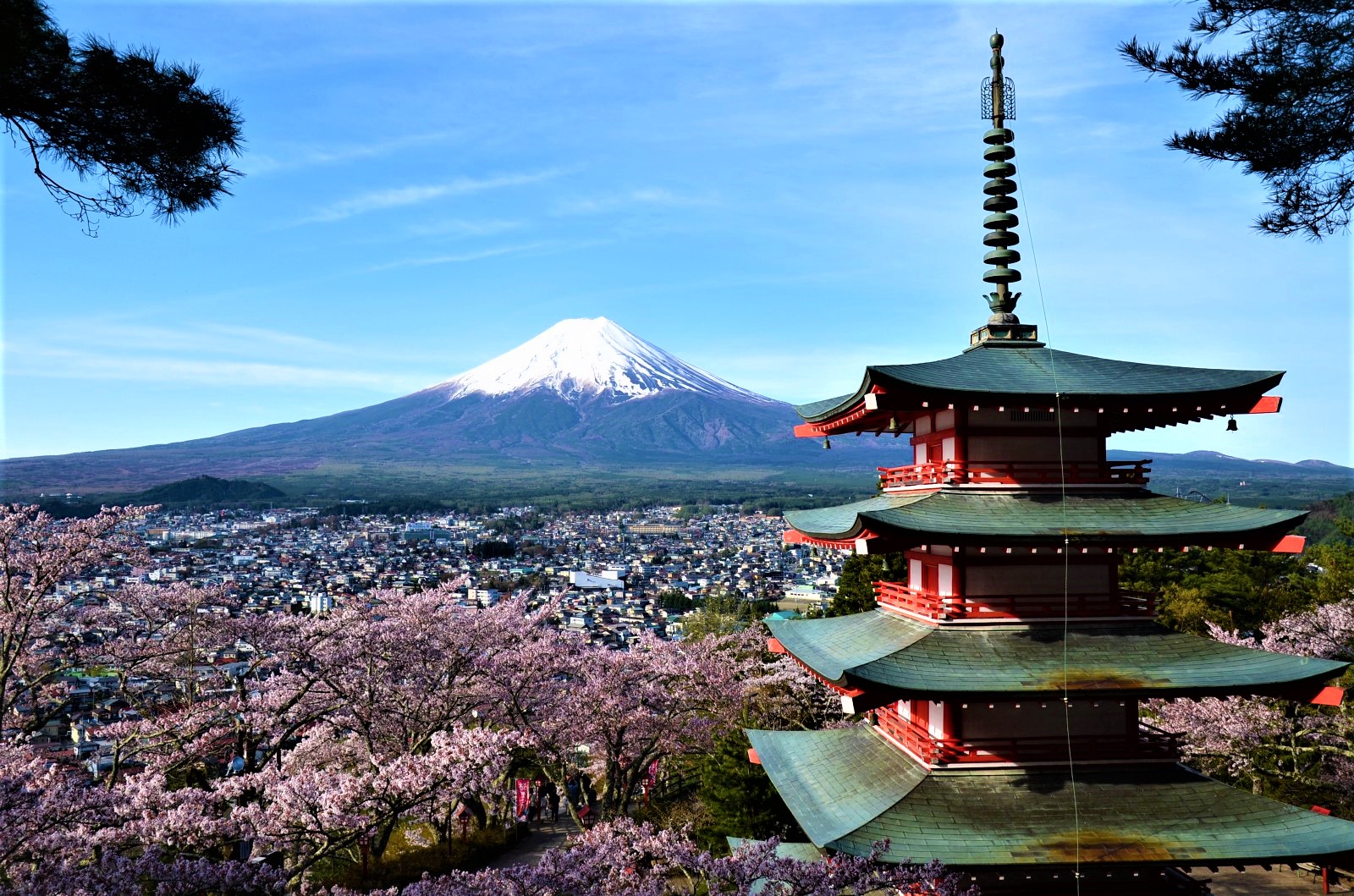 Exploring outside of Tokyo is very much worth as there are so many beautiful places to see, and it's highly recommended to spend at least a day to make a short trip from Tokyo.
One of the top choice for side trip among travellers is Kamakura City, Kanagawa Prefecture which is often described as the Kyoto of East. The city is home to numbers of historical temples, shrines and monuments, and it's very accessible from Tokyo.
There are two Disney theme parks near Tokyo (in Chiba Prefecture), Tokyo Disneyland and DisneySea which are a popular option for Disney fans, groups and families. There are several great amusement parks located near Tokyo such as Fuji Q Highland and Yokohama Hakkeijima Sea Paradise.
Other popular destinations are Onsen resorts such as Hakone and Kusatsu, especially during winter. Flower parks such as Ashikaga Flower Park and Hitachi Seaside Park are also popular in spring. If you wanna be a beach bum for summer, Shonan Area and Izu Peninsula are top beach getaways near Tokyo. It is also possible to visit Mt.Fuji and surrounding area for a day, such as Fuji Five Lakes and Chureito Pagoda.
A lot of long distance coaches to these destinations are available from Tokyo Station or BUSTA Shinjuku, and usually travelling by bus is much cheaper and hustle free!
If you are a nature lover and keen on adventure, how about visiting Tokyo's subtropical volcanic islands and exploring the unspoilt nature? Hachijojima Island and Ogasawara Islands are treasure islands of Tokyo where tourists can access from the central area of Tokyo by ferry or flight.
---
What did you think about the list?? Tokyo is the city with tons of tourist attractions and it will never get you bored! If you are planning your trip to Japan, I highly recommend to add these 30 things on your bucket list! Some of spots are definitely must-see for all visitors to Tokyo while some are new, unique and a great choice! All listed things and activities are available through the year, so you can enjoy anytime you visit Tokyo.
If you are planning your trip to Tokyo soon, make sure to get things ready beforehand! One of travel essentials in Japan is a rental WiFi! Japan-Wireless provides rental pocket WiFi products with fast speed internet, unlimited data usage, great area coverage and the best price guaranteed! Moreover, I'm offering an exclusive promo code "JPW001" only for my readers here. Click HERE to place your order now with the special discount!
▽Check more Bucket Lists in other popular areas in Japan!▽
▶︎Top Things to Do in Kyoto
▶︎Top Things to Do in Osaka
▶︎Top Things to Do around Mt Fuji
▶︎Top Things to Do in Hokkaido
▶︎Top Things to Do in Okinawa
▶︎Top Things to Do in Western Japan
There are many other things to do and see in Tokyo, and on top of it, seasonal events and activities are also things you can't miss. If you wanna check out more travel info, please read my other articles listed below!
▽ Related Articles ▽
▼ Editor's Picks ▼
---