Tully's Coffee x Tom and Jerry Cherry Blossom Collection 2023
Special Coffee Time with Cherry Blossoms and Strawberries at Tully's Coffee Japan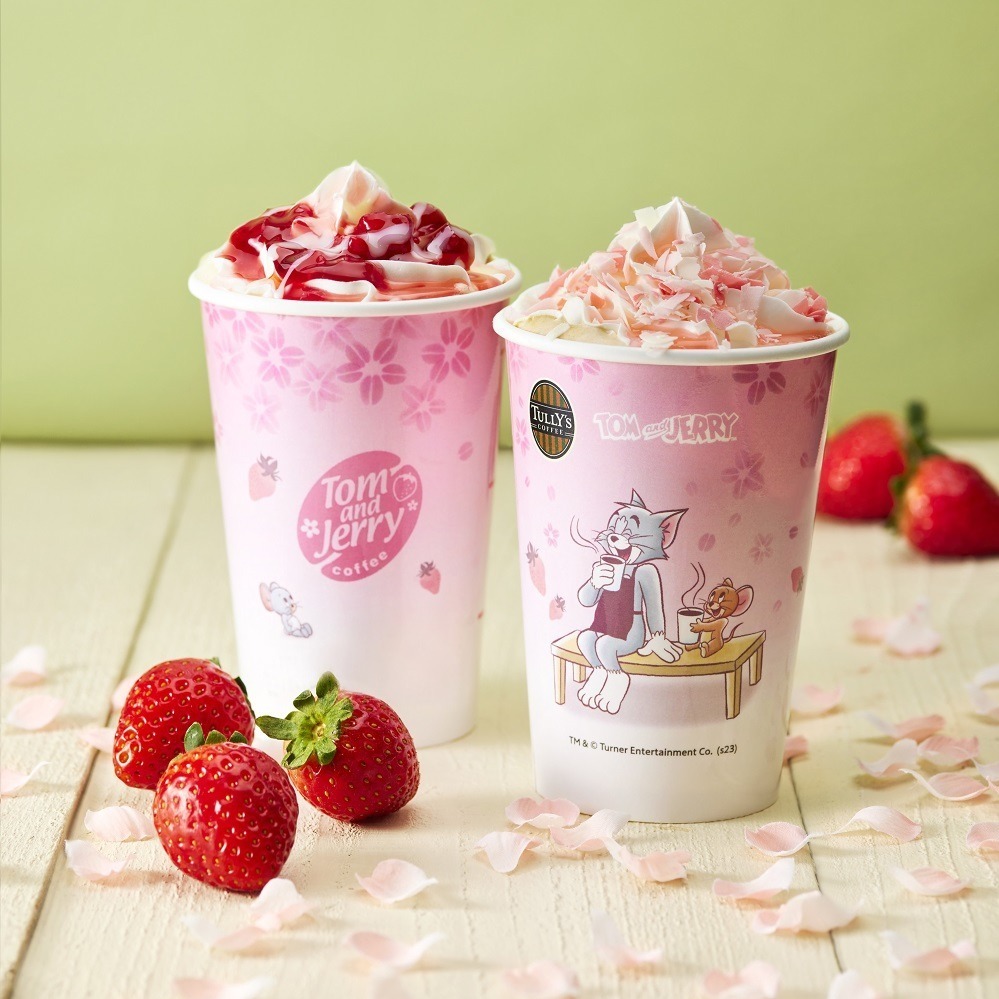 Spring is coming, and that means that it's that time of the year again in Japan. The most awaited season by all, nationals and foreigners. I'm talking about, of course, the world-wide famous cherry blossom season! The colors and aesthetics of the Japanese sakura (cherry blossom) are very popular among the public, so almost all the companies in Japan make time-limited cherry blossom themed editions of their products during Spring.
Every year since some years ago TULLY'S COFFEE, the famous American coffee chain, bring spring vibes to its customers at its 750 stores across Japan. Last year for the Spring edition TULLY'S COFFEE teamed up with the famous characters Tom and Jerry with the "Tom and Jerry Sakura Dance Special Coffee Time Collection" and it was a super huge success! So in 2023 they are collaborating again. The theme of this fourth collaboration is "Special Coffee Time with Cherry Blossoms and Strawberries" and will feature a rich variety of beverages softly scented with cherry blossoms and strawberries, as well as food and goods that incorporate the world of Tom and Jerry.
This collaboration will be released on February 10, 2023. The 2022 collection was also released on February 10, since the first episode of Tom and Jerry was released on February 10, 1940. So it's a special way to celebrate the anniversary.
The special drink, food and goods will also be available at Tully's Coffee stores nationwide until mid-March. This spring season, let's have a special time at Tully's Coffee with the rich aroma of coffee and the beauty of cherry blossoms!
-Special Drinks 2023
For Spring 2023, two types of drinks will be available hot or cold. Tom and Jerry collaboration drinks will be served in cups with a limited collaboration design, and will make you smell the soft aroma of cherry blossoms and feel the arrival of spring with just one sip.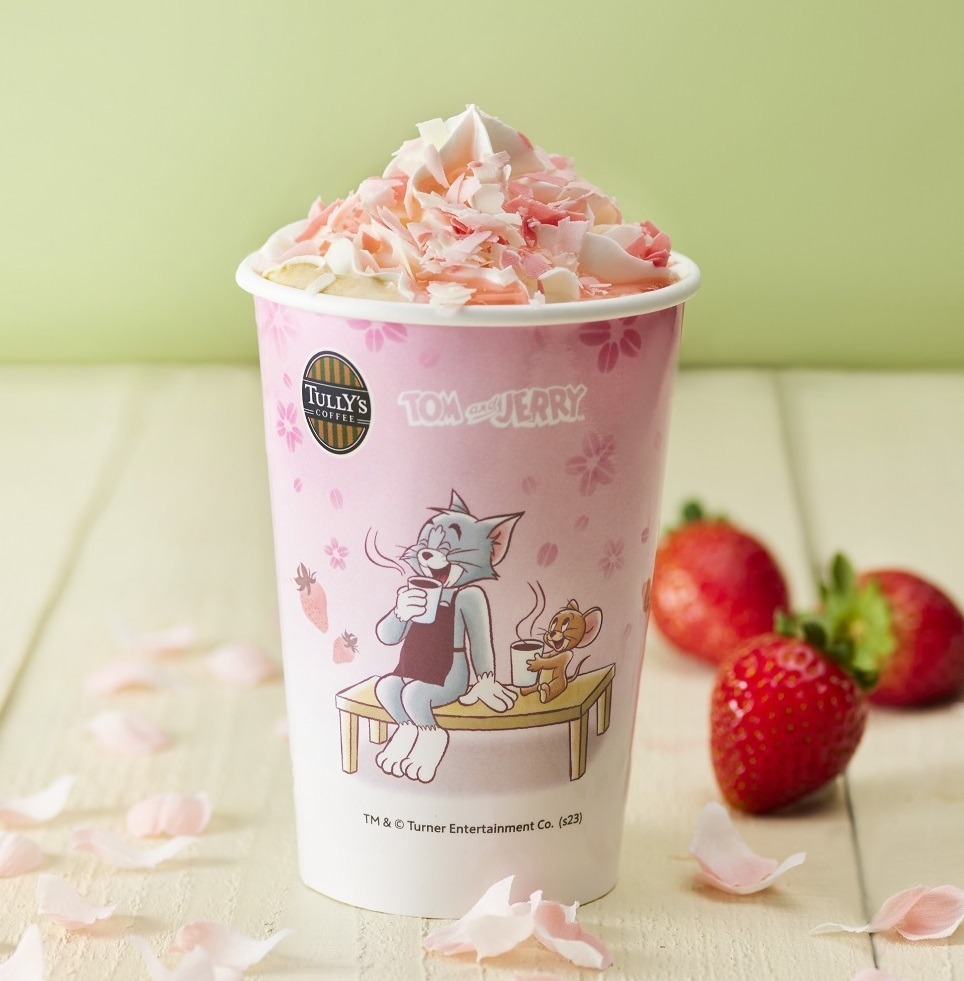 Tom & Jerry Cherry Blossom Flavored Strawberry White Chocolat Latte is a white chocolate flavored latte with cherry blossom and strawberry flavors, topped with pink-colored chocolate flakes.
Tom and Jerry Strawberry White Chocolate Latte
(HOT / ICED) Tall size only: 695 yen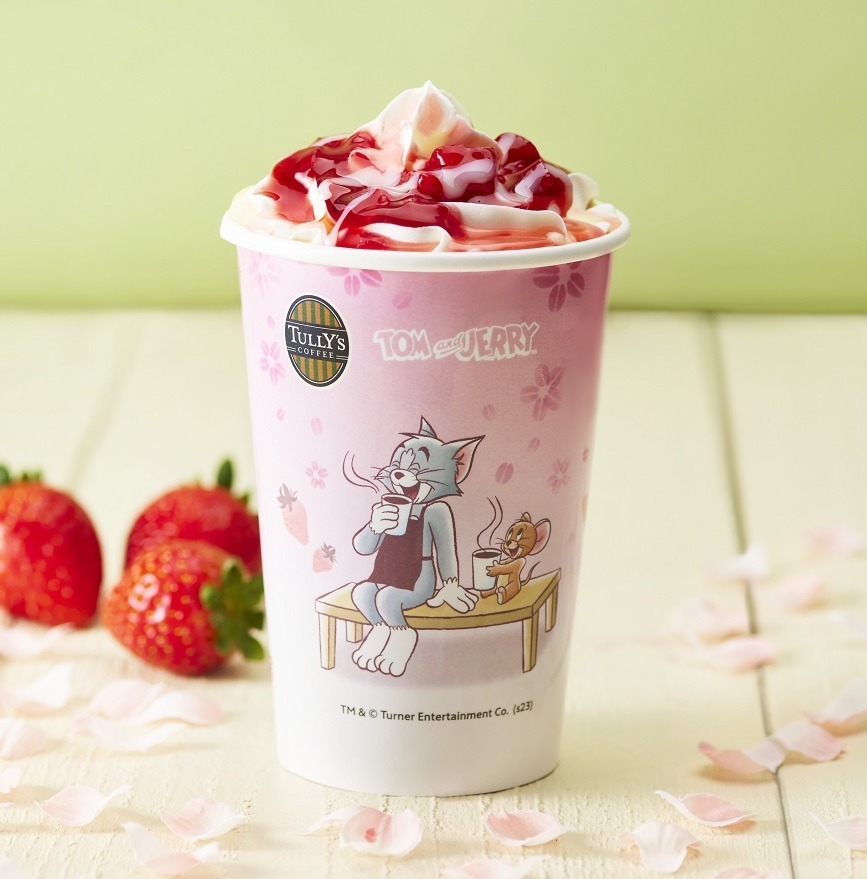 Tom & Jerry &TEA Cherry-scented Strawberry Royal Milk Tea is a royal milk tea accented with sweet and sour strawberries.
Tom and Jerry Scented Strawberry Royal Milk Tea
(HOT / ICED) Tall size only: 695 yen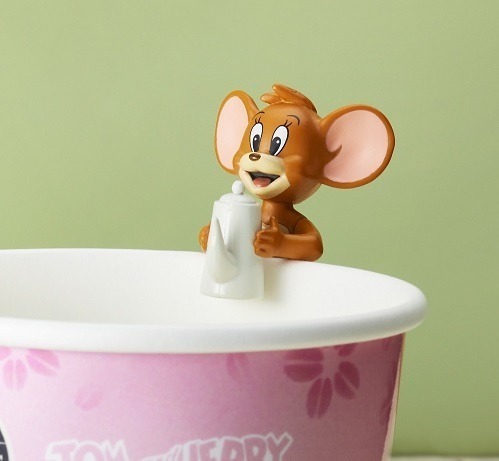 In addition, customer that pay an extra 550 yen will get a Jelly cup accessory attached to the collaboration drink. The accessory is designed to look like a cute Jelly pouring the drink into the cup.
-Food Menu 2023
There is also a full food menu to enjoy with the drinks. As well as hot dogs with plenty of cheese (Jerry's favorite food) and sandwiches, spring-like sweets such as cherry & strawberry doughnuts and mousse cake will be also available.
Hot Dog Triple Cheese & Almond: 520 yen
Well-Baried Sandwich: 550 yen
Cherry Blossom & Strawberry Doughnut: 360 yen
Soft Cherry & Strawberry Mousse Cake: 525 yen
-Cafe Merchandise 2023
The merchandise includes a cheese-shaped pouch and an eco-bag set with a charming Tom expression on it as well as food pots, stainless steel bottles and stacking mugs that are perfect for a picnic day while gazing at the cherry blossoms. All the limited-edition goods have a super cute and original design, irresistible for all the Tom & Jerry fans!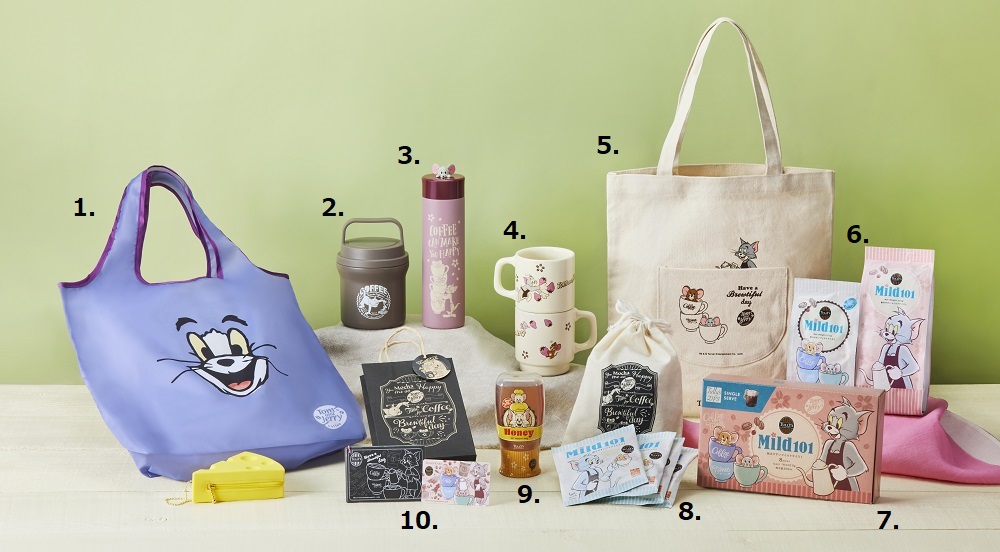 1. Tom & Jerry Silicone Pouch (Cheese shape) & Eco Bag: 3,600 yen
2. Tom & Jerry Food Pot (Gray): 3,000 yen
3. Tom & Jerry Stainless Steel Bottle: 3,900 yen
4. Tom & Jerry Stacking Mug (Ivory): 2,500 yen/ 1 unit
5. Tom & Jerry Pocket Tote Bag: 2,150 yen
6. MILD 101 : 700 yen/100g; 1,400 yen/200g
7. Tully's ZIPS Single Serve MILD 101: 1,400 yen/ 8-pack box
8. Tully's ZIPS Single Serve MILD 101 Drawstring Pouch: 1,080 yen/ 4 pieces
9. TULLY'S HONEY 300g Tom & Jerry: 1,080 yen
10. Tom & Jerry TULLY'S Card & Card Case Set: 1,800 yen (Card case 800 yen & card deposit 1,000 yen)
-Online Store Limited Edition Designs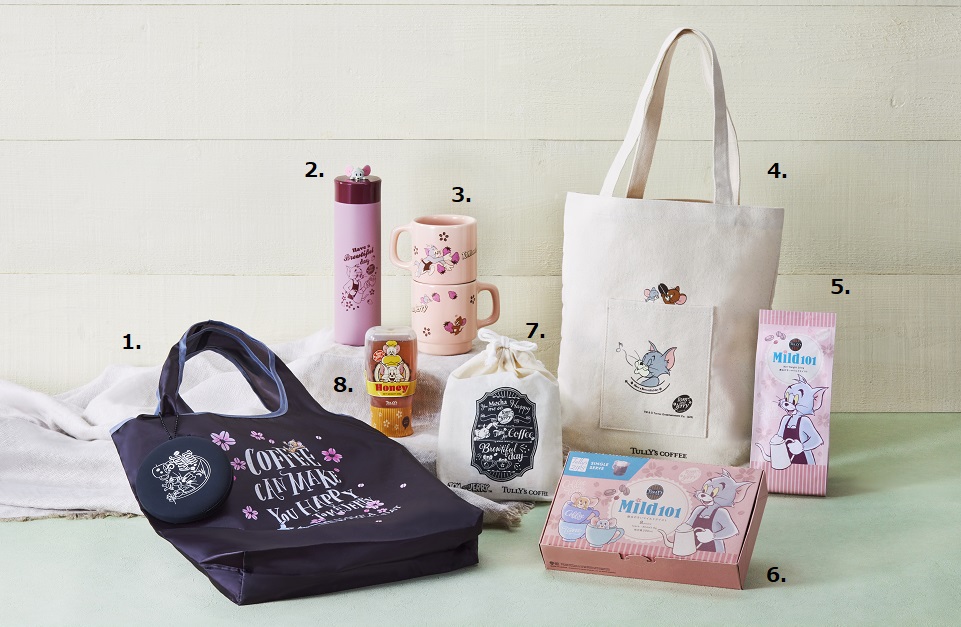 1. Tom & Jerry Silicone Pouch & Eco Bag (Black): 3,600 yen
2. Tom & Jerry Stainless Steel Bottle (pink): 3,900 yen
3. Tom & Jerry Stacking Mug (pink): 2,500 yen
4. Tom & Jerry Pocket Tote Bag: 2,150 yen
---
Who else is looking forward to going to Tully's Coffee and try the special drinks?🤩
For more activities or events in Japan this Spring, don't miss these articles either!
▽Related Articles▽
▼Editor's Picks▼
---